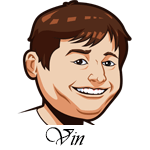 Follow @SBTSportBetting
I sometimes wish I had the time to write-up every game and the money to bet on every game. I think I would do pretty well. I certainly would've done better yesterday, that's for sure. Sometimes I narrow my picks down to 2-3 games and when I do that, I don't always choose right. I'm only human.
There were six day games that started at 3:40 eastern or earlier and four of them went over their posted total, one pushed and one went over. The one that didn't? The one I chose. That was the game that I felt had the best chance to go over the total based on the starters for the day. The Nationals and Pirates just didn't seem to feel like hitting and that game went under.
My other pick, the Indians -1.5, lost. The way I look at pitchers is to take a look at their stats, their match-up and then take a look at a daily projection system to get a feel of how they might do. The projection system I used yesterday, SaberSim at Fangraphs, saw Carlos Carrasco as the top pitcher of the day. He wasn't. The Indians did exactly what I expected them to do, which was score a buttload of runs, but Carrasco didn't and the Indians lost this one 13-11. That's a tough final score.
One game I am sad about? I didn't target Chris Tillman! That's my favorite thing to do! He's my guy to target, I didn't and the Angels rocked him. Of course, they did.
An 0-2 day and a tough start to May. I think good things will come our way this weekend. I believe that they will. May the 4th be with you.
[text-blocks id="137″ slug="email"]
Cleveland Indians vs. New York Yankees Betting Tips:
After facing the best of the Astros starting pitching over the past four days, the Yankees will breathe a huge sigh of relief as they face Josh Tomlin today. In five games this season, Tomlin has been destroyed. A 9.16 ERA/10.01 FIP/6.34 xFIP with 4.82 HR/9. He has been bad. Is he this bad? I don't think so. Do the Yankees slugger even care? I don't think so. I really like the Yankees offense in this one and I think they'll absolutely feast on Tomlin here. His career numbers against the Yanks aren't pretty and his numbers today shouldn't be either.
He goes against CC Sabathia who has looked good to start the year. A 1.71 ERA/4.22 FIP. This isn't the best match-up for him, but he has that veteran craftiness that allows him to keep the runs down. i like him to do enough today and for the Yanks to win big. Lay the runs!
Bet Yankees -1.5 at: [text-blocks id="87″ slug="bet-mlb"]
Cincinnati Reds vs. Miami Marlins Betting Tips:
I don't try to make a habit of betting on the worst teams in baseball, but I like the Reds today. Sal Romano is not bad and he has a big time fastball. He's still only 24 and I think he could make something of a career if he continues to improve. He is a groundball pitcher and faces a weak Marlins offense that is hitting .225/.296/.327 on the season.
His opponent Wei-Yin Chen is a nice pitcher to target. He was quite lucky in his first start of the season with a 100% LOB%. His stats show a 1.69 ERA, but a 6.16 FIP/5.50 xFIP. The Reds offense has really perked up lately hitting .271/.357/.412 over the past 14 days and I like them to grab the win here.
Bet Reds -121 at: [text-blocks id="87″ slug="bet-mlb"]
Milwaukee Brewers vs. Pittsburgh Pirates Betting Tips:
Nick Kingham had a magical first start of his career where he set major league records for holding a perfect game until the 7th inning. I'm not buying him being that good though. The projection systems all show him as 4.0 FIP guy and that's what I believe he is. He starts on the road today in a hitter's park in Milwaukee. I like the Brewers to get a piece of him and give him a proper welcome to the major leagues.
The Pirates offense started hot, but has come back down to earth a bit over the past two weeks hitting .247/.314/.376. They face Junior Guerra here who has looked great early. He has a 0.82 ERA/2.75 FIP and is striking out 8.59/9. I don't honestly believe he's that good, but I think he's good enough to grab the win here.
Bet Brewers -119 at: [text-blocks id="87″ slug="bet-mlb"]
[text-blocks id="110″ slug="middle-ad"]
Follow @SBTSportBetting