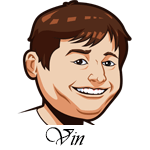 There is a lot going on in the NBA today with some serious playoff scenarios in play.
On the low end, we have the Wizards looking for a win against the Raptors to secure them the 10th seed and a spot in the play-in tournament. The Wizards have really been driving here as they've gotten healthy and they are a good thing to point at for why the play-in is a good idea. This team would absolutely have been a playoff team in a normal year. The Hornets will also be watching that game as they can get a play-in spot with a win and losses by the Bulls and Raptors.
Lakers-Clippers doesn't matter a lot, but the Lakers aren't a team that wants to lose right now. They don't want to get into that play-in tournament and are trying to get into that 4-5 match-up. The Clippers are currently tied with the Nuggets for the third seed, but they don't have the better record. They need to win to keep pace with Denver. The home court matters there, but the match-ups aren't favorable for either with the Mavericks and Lakers in the 5-6 seed.
The big one is Nets-Mavericks which has implications for both teams. If the Nets lose, the Bucks will control their own destiny for the second seed as they don't have the tiebreaker after the two losses to them over the past week. A Mavericks loss and Lakers win will have the Lakers in control of their own destiny for the fifth seed.
We're getting closer and closer to the playoffs with most teams having about six games left to play.
Brooklyn Nets at Dallas Mavericks Betting Tips:
The Nets are coming into this one with three straight losses and tumbling down the standings. They've had Kevin Durant and Kyrie Irving healthy for the past two games against the Bucks, but Milwaukee really gave it their all in these games.
They get a slightly kinder match-up tonight. The Mavericks will be without Maxi Kleber and Kristaps Porzingis in this one which should allow Kevin Durant some room to cook. Luka is great, but his mere presence should be one of those things that sparks a great Kyrie game as well.
The Nets need this win and I think they get it.
Canada: Best Odds: 2.05 at Sports Interaction – $125 Bonus
USA: Best Odds: +100 at SportsBetting.ag- 50% to $1000 Welcome Bonus
Everyone Else: Best Odds: 2.00 at BetOnline – 50% to $1000 Welcome Bonus
(Odds correct as of 2021/05/06 10:36:47 AM EST but are subject to change.)
Washington Wizards at Toronto Raptors Betting Tips:
The Raptors are favored here as the Wizards are playing their third game in four nights and the second half of a back to back. Toronto has lost four out of their past five games, but did look really impressive against the Lakers.
I want to back the Wizards here, but that's hard to do with their schedule. I do think this game will be a war though and the total is worth looking at. The Wizards have had some really high scoring games of late, their last three have finished with totals of 249 or higher, and the Raptors can definitely keep up with that. They scored 121 in their win over the Lakers.
Seven of the last eight games between these two teams has gone over the posted total.
Bet Wizards/Raptors Over 235.5
Los Angeles Lakers at Los Angeles Clippers Betting Tips:
No LeBron. No Dennis Schroeder. No win for the Lakers.
This is a lot of points to lay, but it feels like an absolute must win for the Clippers and they will have much more talent on the floor for this one. Kawhi Leonard has been somewhat quiet of late, but I can see him showing up here when it matters.