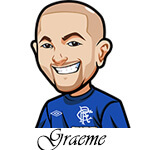 (Picture credit: Golf Digest)
Must admit I quite enjoyed being able to take last week off ha. Sometimes it's good to do that and recharge and refresh the batteries and get pumped
While I do enjoy the making money aspect – sometimes going through the data and the spreadsheets week in, week out can really wear on me. It's something I might look at doing during the spring/summer time where there isn't any break – just picking a random week to take off and just sit back and enjoy the golf.
As it's not just the work here – I'm always doing live betting during the tournaments usually and then I have to sit there and analyze it as opposed to just enjoying.
Anyhoo with that said, golf is back again and let's get on with it. Pretty pumped for this week a lot of possibilities and a lot of difficult decisions.
Mayakoba Golf Classic Betting Tips:
One I'll be curious about is Harris English. Spotted him early in the week when he was 55/1. Everyone else must have spotted him too as he is down to 30/1 now. Not worth it at those odds in my opinion.
Russell Knox: 30/1. 1/2u to win & E/W.. This is a course that Knox has a good record at. He didn't play last year but from 2012 to 2014 he had three Top 40 finishes. The three years following that he saw three top 10 finishes. He had a great performance at the Bermuda Championship and I am hoping he rolls with that into this tournament. Just one of those players who mentally seems to be enjoying his game right now, and I think has to come into this tournament feeling confident.
Scottie Scheffler: 33/1. 1/4u to win & E/W. Stands out strong enough on the metrics for this course. Never played here. I had to look into this one thoroughly to make sure I wasn't looking at him purely due to his performance at the Bermuda but I think he is well worth it. Just one of those that clicks a lot of boxes at this course.
Aaron Wise: 35/1. 1/8u to win & E/W. Baaaaarely a pick. Solid performance last year, 3rd place last time out at the Bermuda and looks like he is returning to form. He's a versatile golfer and could pull off something good here.
Charles Howell III: 28/1. 1/8u to win & E/W . Current form, previous performances here, the odds etc. Much like the Wise one, just worth a small bet.
Nedbank Golf Challenge 2019 Betting Tips:
FYI of the top guys I'd say Stenson is the one worth betting if you want a favourite. But man Stenson just is not someone I enjoy betting on and I can't bring myself to do it here.
Lot of possibilities here so we'll spread out the units and go for some smaller bets.
Other potential ones were Matt Wallace, Robert MacIntyre and I think Matt Fitzpatrick is close to a pick. Had to stop somewhere though. Here's what I got.
Lee Westwood: 30/1. 1/4u to win & E/W. I mean we've just got to bet Lee here at this price. I was so close to a 1/2u pick but there was so many other contenders here I liked I have reducted it to 1/4u. Lee has won here multiple times and killed it and the kicker for me is getting in some good form just prior to this tournament. That's a factor here and I think he can be a serious contender.
Scott Jamieson: 100/1. 1/8u to win & E/W. 2nd place here two years ago and a step up in the Turkish Open last week. Throw in the odds and he's juuuuust worth a small bet here.
Paul Waring: 33/1. 1/8u to win & E/W. Two solid performancs here over the last two years and he is currently performing very very well. been a great year for him with his performances at the WGC-HSBC Champions and last week at the Turkish. Killing it in GIR lately.
Andrea Pavan: 45/1. 1/8u to win & E/W. Nice price on Pavan who ranks highly in the metrics for me. Solid, solid form going back a few months now and an 11th place last year here. Think he could contend.
Richie Ramsay: 80/1. 1/8u to win & E/W. Solid performances here over the last couple of years, playing some great golf right now and stands out in the metrics.