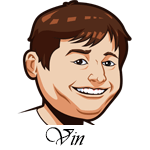 Follow @SBTSportBetting
A 2-0 record last night and now 5-1 in the playoffs. I love playoff baseball.
We have a full slate today with all four series in action. This is what playoff baseball is all about. All day, all night.
The Brewers got the win yesterday, but it was a lot closer than I expected. They gave away a run in the first when Ryan Braun tried to score on a wild pitch from second (why?), left runners on base throughout the game including the bases loaded late. They kind of got BABIP'd a bit as the Rockies hit three singles and had an error that allowed them to tie the game. That's not intimidating.
This game didn't scare me off Milwaukee, but it didn't fill me with a ton of confidence. The offense needs to score when given the chance. They'll have another one today.
The Dodgers? I should've laid the runs there. The Braves were rusty and got absolutely shut down by Hyun-Jin Ryu. A great win and I'm calling the sweep there. The Braves just aren't on this level.
[text-blocks id="137″ slug="email"]
Cleveland Indians vs. Houston Astros Betting Tips:
This is probably the best pitching match-up of the first round as Justin Verlander and Corey Kluber do battle. These offenses are basically a wash in this match-up and the bullpens are closer than I expected them to be as well. There is a miniscule total on this one of just 6.5 runs and I can't really bring myself to mess with it. The system sees this game at 7, but just barely.
To pick this game, I am going purely on the starters. Nothing else. So let's compare.
Justin Verlander had a 2.52 ERA/2.78 FIP with 12.2 K/9, 1.56 BB/9 and 1.18 HR/9.
Corey Kluber had a 2.89 ERA/3.12 FIP with 9.29 K/9, 1.42 BB/9 and 1.05 HR/9.
I have to lean Verlander when I look at that. When I throw in the home/road splits (Verlander better at home as is Kluber) and I just have to go with the Astros here.
Bet Astros -145
Colorado Rockies vs. Milwaukee Brewers Betting Tips:
Any lessons to be learned from yesterday's game? For me, the lesson was that the Rockies are who we thought they were. They are a terrible hitting team away from home and I don't believe in them whatsoever. The system very slightly likes the over in this one, but I just can't trust that team. They aren't good and the Brewers pitching staff is doing well.
The Brewers know about their stats versus righties and are starting Jhoulys Chacin on short rest here. They don't plan for him to go deep and he'll probably just do the one time through the order.
Colorado should probably do the same thing with Tyler Anderson here. In road starts this season, he had a 5.02 ERA/4.67 FIP. The Brewers are one of the hottest offenses out there and I think they do well here. This series will shift when things get to Colorado, but for this one? I'm all about the Brew Crew.
Bet Brewers -160
Check out the Yankees/Red Sox and Braves/Dodgers picks here.
Follow @SBTSportBetting