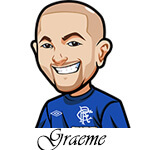 Follow @SBTSportBetting
Tonight we have the 5-1 Chicago Bears taking on the 4-2 LA Rams in Monday Night Football, as we say goodbye to Week 7 of the NFL.
Alas it was a losing week in the NFL regardless of how tonight turns out. Got a bit unlucky with Browns -3.5. A large part of that pick was OBJ and I mentioned that in the write-up. Then he got injured early in due to a stupid defensive move by him.
Lions/Falcons over was a very disappointing one although holy crap that ending and the way the Falcons lost was the greatest thing I've ever seen. Packers covered for us. Bucs did the biz too as did the Chiefs. Seahawks lost.
So we're 3-4 going into tonights game and hoping for one last win to make it 50% for the week meaning all we lose is the juice.
47-28 is the record for the season so far so still damn good.
Let's look into tonights game:
Rams vs Bears Betting Tips:
The Rams are coming in with their second loss after losing to the 49ers. After the dismantling of the Patriots yesterday that doesn't look like a bad result.
Bears have that lone loss to – the Colts – why not. Just amazing that one.
Despite their record, the Bears are 6 point underdogs going into this one. A large part of that is down to Nick Foles no doubt. If you look at his stats – um I hate to say this but he isn't good at all ha.
So the Bears are going to have to reply on their defense if they are going to be able to take this one. How will that work against Goff?
Well he has been up and down. You have to pass a lot against the Bears. But they don't allow a lot against them. If you look at Goffs last two outings against the Bears D – not good. Not at all.
This seems like a game where defense is going to rule the day. The under is 44.5 points for this one. However I am going to do a score prop on this one instead. I just feel better cheering for that than the under. So going to skip the game bets this week and instead do 1u on Over 3.5 Field Goals at +137 odds.
Follow @SBTSportBetting