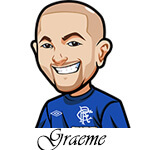 Hi guys,
It was a 2-3 Sunday in the NFL.
In the early games, I won with ease on the Colts -2.5. I thought Stafford would struggle in that one and that was correct with 1 interception and 5 sacks.
I lost on Raiders/Browns going over. I was concerned about Baker and that proved to be right but man I was just way off on that one as the points never came in.
I was gutted to lose Bills -4 against the Patriots. That was a very poor performance from the Bills as they should have dominated the Pats especially with Harry and Edelman out.
Packers -6 was my third loss. Man I hate me Aaron Rodgers. I only had the one bet in the late games which was the Seahawks and they were able to do the business.
I also fell asleep early due to clocks going back and missed the Cowboys/Eagles game. From watching the "highlights" last night I think I can chalk that one down to a win!
Let's look at Monday Night Football and see if we have anything for it:
Giants vs Bucs Betting Tips:
The Giants are slight underdogs at a whopping 12.5 points. Over/under is set at 45 points.
Giants come into this one with one win of the season. They lst played on Thursday, October 22nd where they lost to the Eagles 22-21.
Bucs come in crushing everyone right now. They beat the Packers and the Raiders with big point differentials.
Normally when it's over 10pts I stay clear. However the way the Bucs are doing everything right now is appealing so let's look more into this one.
Brady will be without Godwin of course which hurts. Wonder if he is already looking ahead to the Brown era. Giants are a team you can pass against so expect Brady to do that a lot.
What about Danny Dimes? He is going to be under a lot of pressure here. You look at QB performances against the Bucs and even his A++ game might not be enough here.
One concern is that Evans is going to be shadowed by James Bradberry and that can make for some tough times for Evans. Different team of course for Bradberry but still – an issue.
I hate to say it guys but no bets here. I do think Bucs will cover the spread but I am concerned about Evans production here. Other than that 49ers game it's not like the Giants get blown out.
So no bet for me but enjoy the game.