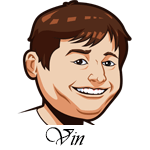 NASCAR returns to the world famous Indianapolis Motor Speedway for the Big Machine 400. The Indianapolis Motor Speedway is the only race track to be deemed a National Historic Landmark and is famous for the jug of milk the winner drinks at the finish line. While the stands are normally packed with 40,000 people, this year will have none because of the coronavirus pandemic that we are living through.
Kevin Harvick got the win last weekend at the Pocono 325 and then Denny Hamlin got the win on Sunday at the 350. We picked him for the 325 on the previous day, but we don't need to dwell on that here. Harvick is a pretty big favorite here (for NASCAR) at +400 odds after his win and second place finish last weekend. Denny Hamlin comes in close behind him at +450.
Ford has won this race the last two years with Brad Keselowski and Kevin Harvick taking the last two checkered flags. Kyle Busch won this race for Toyota in 2015 and 2016. Chevrolet has also had a ton of success here with wins from 2003-2014 and then again with Kasey Kahne in 2017. This is a race that seems pretty wide open from a manufacturer perspective.
This is a favorite's race from the betting perspective, but I managed to find a couple of sleepers that I think could perform well. It's looking like Harvick or Hamlin if you want to play it safe, but I have some other names for your consideration.
Notable Upcoming Bets:
Kevin Harvick +400: He's red hot right now and he won this race last year. Additionally, he's placed in the top 10 in 13 of his last 18 at Indianapolis Motor Speedway. He has led 321 laps in his 19 races at the Brickyard with two wins, seven top-five finishes, and 13 top-10 results. I hate to pick this big of a favorite, but he deserves it right now and based on his history.
Chase Elliot +1000: He doesn't quite have the history here, but he's been having a great season overall and he is a good value at this number.
Joey Logano +700: I think he's definitely worth a bet at this price. He won the first stage of this race last year and finished 2nd overall. He's had leads in this race for the last three years and this could be the year that he gets to the front of the pack.
William Byron +2600: Everybody loves a deep sleeper and I think Byron is the best one to throw a couple bucks at. He finished fourth here last year and he's been in the top-11 in four of his past five races.
Total Cautions: We have had success with going under on the cautions recently as we have just not seen that level of cautions in the past few races. The total has been nine or less in the past four races. This race has been a bit higher with the total going over nine two of the last three years, but last year was just at nine and I am thinking they do low numbers again here.