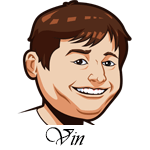 Follow @SBTSportBetting
The NASCAR Cup series heads to the Kentucky Speedway for the Quaker State 400 this Sunday, July 12th at 4:00 PM Eastern time. Last weekend's race was won by the red-hot Kevin Harvick and he enters this race as a major favorite once again.
Harvick and Denny Hamlin have had a real battle going in NASCAR of late and last weekend at the Indianapolis Motor Speedway was no different. It was a high-speed duel between the two throughout the race with Hamlin having a late lead over Harvick. However, a blown tire for Hamlin sent him into the wall and ended the race for him which lead to Harvick taking the checkered flag. It was Harvick's second consecutive win, his fourth of the season, and his third at the Indianapolis Speedway. Thanks to that finish, Harvick is a big favorite this weekend at +350. He's never won here in the short history of this race and his best finish was 5th in 2018.
For past winners, we have Martin Truex Jr. who won in both 2017 and 2018. The Busch brothers have also found success here with Kurt Busch taking last year's race and Kyle Busch taking second last year's race and winning in 2011 and 2015. The Toyota cars have done well here in recent history and we'll be looking hard at them here.
Notable Upcoming Bets:
NASCAR Quaker State 400 Betting Odds:
Kevin Harvick #4 +350
Chase Elliott #9 +500
Denny Hamlin #11 +500
Kyle Busch #18 +600
Martin Truex Jr. #19 +750
Brad Keselowski #2 +800
Joey Logano #22 +825
Ryan Blaney #12 +1200
Alex Bowman #88 +1600
Jimmie Johnson #48 +2500
Kurt Busch #1 +2800
Aric Almirola #10 +3000
Erik Jones #20 +3000
William Byron #24 +3000
Clint Bowyer #14 +4000
Matt Kenseth #42 +5000
Christopher Bell #95 +6000
Tyler Reddick #8 +6000
Matt DiBenedetto #21 +6600
Justin Allgaier #48 +12500
Austin Dillon #3 +15000
Ryan Newman #6 +17500
Cole Custer #41 +20000
Ricky Stenhouse, Jr. #47 +22500
Chris Buescher #17 +45000
John H. Nemechek #38 +55000
Darrell Wallace Jr. #43 +75000
Ryan Preece #37 +75000
Michael McDowell #34 +100000
Ross Chastain #77 +100000
Ty Dillon #13 +100000
Brennan Poole #15 +300000
Daniel Suarez #96 +300000
Corey LaJoie #32 +400000
Garrett Smithley #53 +450000
JJ Yeley #27 +450000
Joey Gase #51 +450000
Quin Houff #00 +450000
Timmy Hill #66 +450000
BJ McLeod #78 +500000
NASCAR Quaker State 400 Betting Odds Tips
Denny Hamlin #11 +500: Hamlin would've have won last week if it wasn't for that tire blowout and I can see him performing well again here. The Toyoto cars have done well here and he drives one. He had a 5th place finish last year as three out of the top five starts were taking by Toyota. He's the alpha dog of this team and I think he can take it.
Kyle Busch #18 +600: His two wins were a long time ago, but he finished second last year and finished the race with the most laps led. He drives a Toyota and I think they are going to do well here. It's hard not to throw a couple bucks at Kyle Busch just based on his history.
Erik Jones #20 +3000: This is definitely a spot where you want to grab the top-5 or top-8 odds with this one. It's a deep sleeper, but he is a boom-or-bust driver that is ready for a big boom. Jones has placed third, seventh and sixth at the Quaker State 400 and this might be his best track on the circuit. Definitely worth taking a flier on.
Notable Upcoming Bets:
Follow @SBTSportBetting