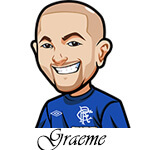 UFC 251 takes place on Saturday, July 11th.
It features the new event of Kamaru Usman vs Jorge Masvidal. This will be the first UFC event to take place on UFC Fight Island.
It was initially meant to be a main event featuring Gilbert Burns however Burns coach tested positive for COVID-19, and so pulled out. Masvidal is an absolute beast and stepped up.
This is a stacked freaking card with Holloway vs Volkanovski on it as well as Jose Aldo and Rose Namajunas in separate fights.
Here's the betting odds:
UFC 251 Betting Odds:
Kamaru Usman (-210) vs Jorge Masvidal (+215)
Alexander Volkanovski (-200) vs Max Holloway (+190)
Amanda Ribas (-750) vs Paige Vanzant (+675)
Petr Yan (-205) vs Jose Aldo (+190)
Rose Namakunas (-220) vs Jessica Andrade (+180)
Volkan Oezdemir (-145) vs Jiri Prochazka (+125)
Raulian Paiva (-170) vs Zhalgas Zhumagulov (+150)
Makwan Amirkhani (-210) vs Danny Henry (+180)
Karol Rosa (-245) vs Vanessa Melo (+210)
Leonardo Santos (-160) vs Roman Bogatov (+150)
Muslim Salikhov (-135) vs Elizeu Zaleski Dos Santos (+115)
Marcin Tybura (-115) vs Maxim Grishin (-105)
Martin Day (-165) vs Davey Grant (+154)
Lot of decently close fights which is nice with only one really heavy favourite in Amanda Ribas.
Let's get right into the UFC 251 Betting Tips. Oh I should answer a question I was asked by a few people – Can I bet on Mike Perry being cut by the UFC?. The answer to that is no – you cannot bet that anywhere.
UFC 251 Betting Tips:
1u on Aldo to win at +190 odds. I should preface this by saying I'm not a Jose Aldo fan so it's not like favouritism or anything. Petr "No Mercy" Yan is killing it at the moment and is a solid as all hell fighter. However this is a big jump in quality for him. Yes Jose Aldo has lost his last two fights against Volkanovski and Moraes but he is still a high quality fighter. Age hasn't caught up with him yet. I think this is a closer fight than the odds suggest plus with the randomness of Fight Island, I think Aldo has a chance.
2u on Marcin Tybura to win at -115 odds. Practically a pickem. Tybura is a weird one. The dude looked like a killer and was coming into heavyweight contention then started getting battered. he beat Struve then lost another two before he dominated Spivak. Grishin makes his debut here from the PFL and he can be a beast at times. Big step up for him here and he is in on a weeks notice so he is likely going to be swinging for the fences and gas out early if he doesn't connect. I like Tybura for the victory.
Rosa & Usman Double at +115 Odds – 1u: If Masvidal wins then so be it but man Usman should NOT be losing this one considering the circumstances. Masvidal will be a true BMF if he wins here. Rosa is a heavy favourite and putting them in a double makes sense. Karol Rosa is a very impressive fighter and comes in on the back of three wins. I enjoyed her fight over Procopio she looks like she belongs here. Melo is very inaccurate and Rosa will simply overwhelm her on the way to victory.
1u on Davey Grant at +154 odds. Nice underdog price here. Martin Day is fighting for the first time since November 2018 here. Day is very poor when it comes to grappling and unless he has really changed that since his time off then Grant should be able to take him. He should be able to take Day down no problem.
2u on Jiri Prochazka at +125 odds. My last play. Honestly this is a hell of a fight in my opinion as you have two really good guys fighting. I might be betting this purely because it interests me a lot. Volkan was doing so well before he went toe to toe with Cormier and lost. He went on a bad run before turning it around with wins over Latifi and Rakic. Jiri is making his UFC debut here after dominating the likes of Rizin and I think the only reason he is the dog is lack of exposure. He's a great fighter and I like the underdog win here.
Best Sportsbook To Bet UFC 251:
Register an Account.
All betting odds and props will now be viewable under the event listing.
You can deposit to BetOnline via over 20 different options such as credit card.