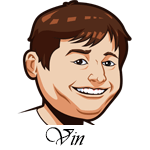 Follow @SBTSportBetting
A 2-0 record last night.
The Heat and Pacers looked like it was going to be a competitive game at halftime, but then the Heat simply took over. Jimmy Butler was definitely the story of this game as he finished with 19 points, 11 rebounds, five assists, and four steals. He really dictated the pace of the game and the expected fireworks with T.J. Warren never happened. Miami is now 3-0 against the Pacers this year with the two potentially set to face off in the first round of the playoffs.
We also got the win taking the points with the Nuggets +5 against the Lakers and it came down to the final seconds of the game before Kyle Kuzma hit a game-winning three-pointer. This was a very impressive game from the Nuggets, especially the bench, as they kept this one close. A weird game from a box score perspective as 10 Nuggets played between 21 and 25 minutes in this game and everyone scoring at least six points.
It's nearing the end of the bubble and the meaningful games are getting slim. The Bucks and Wizards is the TNT game tonight and has absolutely no stakes whatsoever. Pelicans-Kings is nothing to watch as well. There are a couple decent spots out there though so we'll be focusing on those.
Best Odds for NBA:
Boston Celtics vs. Memphis Grizzlies Betting Tips:
The Celtics are locked in where they are and can't improve or lose their current position. This game doesn't mean much to them beyond chemistry, but this one means a ton to the Grizzlies. They can lock into the play-in game with a win and if Portland loses, they lock up the 8th seed. As much as we'd all like to see a play-in game, I can't imagine the Grizzlies wanting to do that. They need this game.
Boston also, weirdly, needs this game for draft purposes. You never know how a team is going to handle that, if orders come down from on high or something, but the Celtics own the Grizzlies pick in this draft and they would feel a lot better about things if the Grizzlies were eliminated. I don't imagine Brad Stevens cares about that, but I do think we could see some good starter minutes here.
The Grizzlies defense has been leaky on three-pointers throughout the bubble and the Celtics are a team that absolutely lets it fly from deep. Even if the starters play limited minutes, they could build a lead here that Memphis is unable to come back from.
Portland Trail Blazers vs. Dallas Mavericks Betting Tips:
The Mavericks should be trying to win this game as if the Jazz or Thunder lose out, they finish sixth. If both lose out, they can get to fifth. Both of those match-ups are better than the 7th seed and the Clippers so I imagine they are going to be going for it today. Luka Doncic and Kristaps Porzingis are both cleared to play for this one.
Portland has been making a run towards the playoffs with a 4-2 record in the bubble. They are trying to get in the playoffs and Damian Lillard has been doing his best to get them there with some huge games. This is a good team and I think they can definitely knock the Grizzlies out of that eight spot in a play-in.
That said, I don't think they can handle the Mavericks here. Portalnd is a small favorite which really doesn't make much sense to me. Dallas is the better team from both an offensive and defensive efficiency standpoint and they have a lot to gain with a win here.
Best Sportsbook To Bet NBA:
Register an Account.
All betting odds and props will now be viewable under the event listing.
You can deposit to BetOnline via over 20 different options such as credit card.
Follow @SBTSportBetting