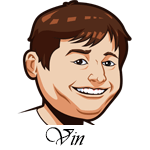 Follow @SBTSportBetting
A 1-1 record.
How about those Nuggets? Denver fell down 3-1 in this series and looked toast, but has stormed back to win the last two games. There was a thought that teams down in the bubble would lay down when the possibility of going home was near, but that is just not in the Nuggets' DNA. Jamal Murray is having a real coming out party and scored 50 points for the second time in the last three games. We took the over here and it came in easily as the Nuggets won 119-107.
We took the loss with the Mavericks +10 against the Clippers. Kawhi Leonard was really on one as he smelled blood in the water and closed it out. The Mavs teased us with getting close enough to cover or push, but eventually lost 111-97. Luka Doncic ended his first playoff series with an amazing 38 points, 9 rebounds, and 9 assists. This team is going to be a lot of fun next season. The Clippers will now await the winner of the Nuggets/Jazz Game 7.
Boston came out big in the early game to take a 1-0 lead in their series against the Raptors. Boston was a slight underdog here, but won easily 112-94. This was a rough game for Toronto that reminded me of some of their pre-Kawhi playoff performances in game ones. Pascal Siakam has really struggled from the field and it'll be interesting to see how this series looks going forward.
Best Odds for NBA:
Milwaukee Bucks vs. Miami Heat Betting Tips:
The Bucks enter this series as a -440 favorite with the Heat at +350. There is definitely a case to be made for the Heat here though as they have some key match-ups that can cause issues for Milwaukee.
Stopping Giannis isn't really possible, but Bam Adebayo is one of the better people to match-up against him. Khris Middleton had his fair share of struggles in the first round and will now have Jimmy Butler and Andre Iguodala guarding him. That puts a lot of pressure on Eric Bledsoe who has had his playoff issues in the past and is listed as questionable for game one. Brook Lopez can definitely cause trouble with his inside/out game and he could potentially be in for a big series.
One of the keys to any series against the Bucks is how well their shoot the three. Jimmy Butler has had some big time troubles this year from deep as he's shot just 24% from three. The key will be to keep him shooting those at a low percentage while keeping him off the free throw line. Easier said than done.
I like the Bucks to win this series, but with Eric Bledsoe listed as questionable I don't see them winning big tonight. Miami looked great in the first round and they have had more time to prepare for this one. I can see them maybe stealing this one or at least making it close.
Houston Rockets vs. Oklahoma City Thunder Betting Tips:
I have not been able to get a handle on this series and now the Thunder are one game away from elimination. We just saw the Nuggets show up big in this situation and I have to think that the Thunder will do the same here. Game 5 was just one of those games where everything went wrong for the Thunder with a strong defensive performance by Houston, an amazing individual performance by Harden, and a poor shooting night across the board.
The Thunder have been an underdog, come from behind team all season and I think they are going to show up tonight. They might not force another game, but this will be another close one.
Best Sportsbook To Bet NBA:
Register an Account.
All betting odds and props will now be viewable under the event listing.
You can deposit to BetOnline via over 20 different options such as credit card.
Follow @SBTSportBetting