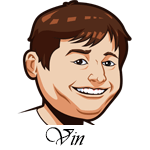 Follow @SBTSportBetting
An 0-2-1 record last night.
The Bucks we bet at -14 and they won by exactly that. I saw this line at -13.5 towards the close so hopefully some of you got it at that number and were able to cash a ticket. This was one of those games that the Bucks were always in control of and down the stretch you were just hoping they could hang on. The Bucks now move on to face the Miami Heat in the second round.
We took the under on the Rockets/Thunder, but the Thunder absolutely did not want to play ball here. A terrible shooting night all around and they scored 18 or less in three quarters. I said in the write-up that James Harden would have a big one and he did. Harden scored 31 points on 11-of-15 shooting, including 4 of 8 from three. All that talk about how good the Thunder defended him in this series, out the window. Houston is now one win away from winning the series.
The Blazers showed a ton of heart last night as they never stopped fighting in their 131-122 loss to the Lakers. LA had some huge leads in this one, but the Blazers always fought back to keep it close. They had nothing to lose with this game so they just went for it. Always fun to see, but not very fun to bet on when you are laying -13. The Lakers move on to the second round where they'll await the winner of the Rockets/Thunder.
Three games today with game one of the Celtics/Raptors series starting early.
Best Odds for NBA:
Los Angeles Clippers vs. Dallas Mavericks Betting Tips:
The Mavs took a big blow when the news that Kristaps Porzingis will be out for the rest of the playoffs came down. This is a two-star team and leaving Luka Doncic all on his own is a big ask. Doncic has been bothered by an ankle sprain, but an unintended consequence of the player's strike may be that he has had extra time to rest it.
The Clippers came in as a favorite in this series, but they have struggled with this team so far. Paul George's struggles have been well documented and I don't think anyone could've predicted what we've seen from Luka thus far. George managed to turn it around last time out so it's reasonable to think that the Clips will continue to look strong here.
That said, I just think the line is simply too high on this game. The Mavericks have shown that they can compete throughout the series and a healthier Luka will make a difference today. I don't expect this team to lay down and I think this will be a close game. Take the points.
Denver Nuggets vs. Utah Jazz Betting Tips:
We have been on the overs throughout this series and there is no reason to stop now. The Jazz have put up huge points in every single game of this series as the Denver defense just hasn't had much of an answer for them. The Nuggets once again will have their backs against the wall so I expect them to come out firing as well.
Donovan Mitchell and Jamal Murray have put on a show in this series and I am expecting that to continue as well. The individual performances of these two has just been off the charts and I'm really hoping to see more of it today. This game should end well north of 220 and looks like a great bet on the over.
Best Sportsbook To Bet NBA:
Register an Account.
All betting odds and props will now be viewable under the event listing.
You can deposit to BetOnline via over 20 different options such as credit card.
Follow @SBTSportBetting