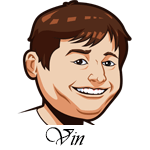 A 2-1 record last night.
It was a bit unconventional to pick the Celtics in the first half and the Heat for the game, but it absolutely paid off last night. The Celtics came out big in the first half with a 60-47 score at half time. The Miami Heat now have a 2-0 lead in the series and a 10-1 record in the playoffs overall. The Heat have moved to +390 to win the NBA Championship which I still think is a pretty good value.
Bam Adebayo continued his ascension as one of the top big men in the league with a huge third quarter. He scored 15 of his 21 points in the quarter, a huge part of the team's 37-17 comeback in that quarter. That kind of quarter is why I really like betting on the Heat because they do not get phased and they will always find a way to come back. It's pretty easy to say that about a team that is 10-1 in the playoffs, but they are also a team that is 10-1 in the playoffs – they deserve that respect.
Our lone loss last night was the over of 209. The final score of 106-101 so we were one basket away from hitting that. I blame the Celtics for their bad lob play when they were down five with seconds on the clock.
Game three should be very interesting with the Celtics in desperation mode and the potential return of Gordon Hayward.
The Lakers and Nuggets kick off the Western Conference Finals tonight.
Best Odds for NBA:
Denver Nuggets vs. Los Angeles Lakers Betting Tips:
The Lakers are, at minimum depending on your sportsbook, -500 to win this series. The Nuggets just continue to get no respect in these playoffs and it will probably motivate them once again. That said, the Lakers have far better chemistry and far better superstars than anyone they have faced thus far. You can argue LeBron or Kawhi all day, but there is no argument that LeBron/Davis is much better than Kawhi/George.
This is going to be an interesting match-up to see what kind of lineup is going to be successful for the Lakers. Do they go back to using Dwight Howard and the other centers against Nikola Jokic? Or do they continue playing a more smallball style that had so much success in the second half of the series against the Rockets?
Jokic will destroy small ball lineups as he has throughout the playoffs and you have to think you will see some bigger, slower men on the floor here. Davis is great, but him on Jokic has a trickle down effect that is not a recipe for success for the Lakers. The Lakers have a size advantage here, especially with the guards, and they should take advantage of it.
To have a chance in this series, the Nuggets really need to take advantage of their 3-point advantage. The Lakers aren't a great three-point shooting team and winning the three-point battle is key to the Nuggets stealing some games here.
A lot of people are just paving the way to the Finals for the Lakers, but I just don't see it. The Nuggets have not backed down at any point in these playoffs so it's hard to imagine them doing that now. It will not be a sweep and at least a six game series is not out of the question.
For tonight's game, I think we see simply the opening moves of the chess match. The Lakers have lost game one of their first two series in these playoffs and I can see that happening again here. It's kind of how they do. They come out with a basic gameplan and then adjust it as it goes on. It's a level of confidence in your team, similar to the Heat, but for a whole series.
The spread is pretty big which benefits Denver. The Nuggets have had enough time to rest that I don't think we'll see a repeat of their performance in game one of the last round. They should come out swinging here.
Game one is often a feeling out time as well and I think we are less likely to see the kind of intense defense that we'll see as the series goes on. I'm thinking we see a lot of scoring here and the over looks like a solid bet. The winning team should score 110+.
Best Sportsbook To Bet NBA:
Register an Account.
All betting odds and props will now be viewable under the event listing.
You can deposit to BetOnline via over 20 different options such as credit card.