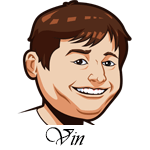 A 2-1 record last night.
I'm pretty sure that last night was the first time all season that we have backed the Royals and that worked out very well for us as they got the win 4-0. It really looked like Brady Singer was going to have a great start here and that's exactly what he did with 6 innings pitched, 8 strikeouts, and no runs allowed. The Royals scored early off Tarik Skubal and that was all they needed.
We got the big win with the Giants -0.5 in the first five over the Mariners. The Giants scored eight runs in the first four innings and that is all you really need to know about this one. A big night for Brandon Crawford with eight total bases.
The Twins beat the White Sox last night as the Chicago offense was an absolute dud. They managed two hits off Jake Odorizzi and then never got a another hit for the rest of the game. Very unlike them, but a great job by the Twins bullpen.
Four tips tonight, let's go.
Best Odds for MLB:
All tips based on the starting pitchers listed. Tips should be considered void if any pitching changes are made unless otherwise noted.
San Francisco Giants at Seattle Mariners (at Oracle Park) Betting Tips:
Giants: Tyler Anderson 4.50 ERA/4.54 FIP
Mariners: Nick Margevicius 5.34 ERA/4.21 FIP
Same story here as yesterday. The Mariners stink against left handed pitchers and that's all there is to it. I don't trust Anderson that much, but he just really needs to be somewhat decent here.
Nick Margevicius is average at best and the Giants offense is scorching of late and they hit lefties very well. The Mariners bullpen is still one that I have no trust in so the Giants full game looks like the best play here.
Toronto Blue Jays at New York Yankees Betting Tips:
Blue Jays: Chase Anderson 5.81 ERA/5.28 FIP
Yankees: Masahiro Tanaka 3.16 ERA/4.03 FIP
To paraphrase John Cena, the Jays time is up – the Yankees time is now.
Toronto has allowed twenty runs over the past two games against the Yankees and now they send their worst starter to the mound. How do you think this is going to go? Lay the runs!
St. Louis Cardinals at Pittsburgh Pirates Betting Tips:
Cardinals: Dakota Hudson 2.92 ERA/4.41 FIP
Pirates: Steven Brault 5.06 ERA/4.61 FIP
The Pirates offense is so bad. They are the worst offense in the league against right handed pitchers with just a 60 wRC+. They have a .264 on-base percentage and a 25.3% strikeout rate. Hudson isn't the greatest pitcher, but you don't need to be against this team.
Brault gives up a ton of walks and is very hittable. The Cards offense has been very good against lefties on the season. This tip is a lay-up.
Bet Cardinals -0.5 First 5 Innings (-125)
Texas Rangers at Houston Astros Betting Tips:
Rangers: Jordan Lyles 7.80 ERA/6.14 FIP
Astros: Framber Valdez 4.08 ERA/3.33 FIP
Lyles is unlike a lot of pitchers in that his first time through the order is his worst time through the order. He has a 14.40 ERA/9.39 FIP. That's bad and a hot first inning seems likely.
I really wanted to find a way to bet on this, but the runline for the first five is absolutely ridiculous at -170. I like Valdez a lot against this bad Rangers offense and I really like any offense against Jordan Lyles.
For the first time, maybe the first time in my life, I am betting the first inning line on this one.
Bet Astros -0.5 First Inning (+220)
Best Sportsbook To Bet MLB:
Register an Account.
All betting odds and props will now be viewable under the event listing.
You can deposit to BetOnline via over 20 different options such as credit card.