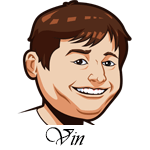 A 1-1 record in game two of this series.
The Nuggets showed their fortitude once again as they came back and nearly won the game against the Lakers in game two. We took them with the points and that came in easily in the 105-103 Lakers win. Nikola Jokic was just amazing in this game as he scored the last 11 points of the game for the Nuggets, but he was matched in that time by Anthony Davis who scored the last 10 points including the game-winning three.
There were a lot of questions about that final play. Mason Plumlee blew it and why was he even in there? Millsap had been doing a good job defensively prior to that play. All that takes away from what Davis did though and his shot was absolutely amazing. Definitely the biggest of his career.
If you want to talk about luck in the NBA, Rondo hit a three-pointer and Caldwell-Pope was 3-for-5 from deep. Rondo is a career 31.6% shooter from three while KCP is a 34.9%.
We took the loss on the over as the pace of the Nuggets really showed here. They have been one of the slower paced teams in the NBA throughout the year and have succeeded when they keep the game at that pace. Lesson learned.
Best Odds for NBA:
Los Angeles Lakers vs. Denver Nuggets Betting Tips:
It's hard to make definitive statements after just two games in a series, but I think the days of high scoring in his series are over. The pace that the Nuggets play at is stifling and the Lakers are comfortable playing like that as well. Neither team is shooting lights out from three and I don't expect them to going forward. As this series goes on, it's going to focus more and more on Jokic and Davis.
That should lead to another low pace, low scoring game. The total on this one is way too high for that.
We've been riding the Nuggets and the points to a lot of success in these playoffs and there is no reason to stop now. They are 10-6 in the playoffs against the spread and have continued to get big points when down. They have a 7-1 against the spread record when trailing in the playoffs as well. That's kind of easy to do when you fall behind 3-1 and win two series in a row, but the stat plays.
This team is great when the chips are down and great in second halves. It doesn't matter what the score is, they will find away to grind away and get back into a game. How anyone could possibly go against them here has not watched any basketball in the playoffs thus far. They are good, they are dogged, and they are not going to quit.
The Lakers very well might win this one and put the Nuggets on the ropes, but if that is going to happen then I think it is going to be another close game that comes down to the final seconds.
Best Sportsbook To Bet NBA:
Register an Account.
All betting odds and props will now be viewable under the event listing.
You can deposit to BetOnline via over 20 different options such as credit card.