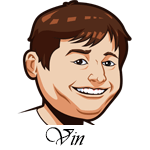 Follow @SBTSportBetting
It seems like Monday Night Football was just last night and here we are starting Week Two of the NFL season. This one can definitely be considered a rivalry game, if not quite a prestige game. The Jets and Bills have had some defensive battles in the past and there is no reason to think that won't be the case here today as both teams are looking for their first win of the season.
The Jets looked decent in their first outing as it went down to the wire, but they ended up dropping their Week 1 match-up 22-23 to the Cincinnati Bengals. They scored sixteen points in the first half and looked like they were going to take the game, but were held to just six in the second half and dropped the game.
Buffalo fared much worse in Week 1 as they only scored a single touchdown in a 13-7 loss to the Baltimore Ravens. That single touchdown isn't pretty no matter which way you dice it, but the Ravens are a pretty stout defensive team. Still, the Bills can't be happy about the result and have to come out looking better if they want any chance of winning this one.
NFL Betting Tips:
As good as Tyrod Taylor of the Bills is, it's hard to see him gaining much ground against this New York Jets defense. They should be on him all game as they know, just like everyone else does, that he is their entire offense. If you can shut him down, you can shut down the Bills like we saw last week. The Jets -1.5 is a strong bet and I'm honestly surprised this line isn't higher.
Perhaps that's because the total is set so low at just forty points. When one of these teams only scored seven points last week and only allowed 13, that will happen. The Bills defense will show itself a bit here, emboldened by the home crowd, and keep this one close as the total goes under 40 points.
Notable Upcoming Bets:
MLB Betting Tips:
The Yankees have been a great story since the trade deadline as they have been one of the hottest teams in baseball and forced their way into Wild Card contention. It's been a great story, but that story should come to an end with this series against the Red Sox. The Red Sox at home are probably one of the scariest offenses we've seen in the past decade. While the Yankees send ace Masahiro Tanaka to the mound, it is not likely to make a huge difference with this offense and the Red Sox -119 should roll.
Tampa Bay has done a good job playing spoiler thus far as they just took two out of three from the Blue Jays. They'll look to continue that tonight against the Orioles in Baltimore. The Rays +134 are a good value play here with lefty Blake Snell on the mound. Baltimore really struggles against lefty pitchers and Snell has big upside. The real steal of this match-up is Yovanni Gallardo who is simply not a great pitcher and could easily get rocked by this Tampa Bay offense.
Follow @SBTSportBetting