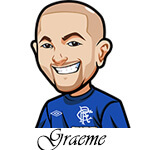 Follow @SBTSportBetting


[Get Exclusive Tips on our Patreon, Ad-Free
]
Welcome to my post where I cover the late games taking place in Week 13 in the NFL 2021 season.
I have already covered the early games.
For the late games we have four games taking place in the afternoon, then the Broncos vs Chiefs is the Sunday Night Football game.
Let's get right into it:
Bet Horse Racing - +£21,565.98 profit on £25/pt staking. Click for more details.
(Advertisement but we have tested it out and have been quite impressed with it)
LA Rams vs Jacksonville Jaguars:
Rams 13 point favourites. When they beat a team, they do usually win by double digits or close to it. Coming in off that tough Packers loss. Jacksonville come stumbling in wishing the season was over.
Rams are skidding just a tad right now though aren't they? Being at home seems nice but when you look at the QB stats against the Jags lately – not so hot. Their pass defense IS last though.
I still feel adding OBJ to this offense was a mistake although hopefully he proves me wrong as I dig the Rams and would like to see them do something this year. I just can't bet a team to cover by almost two touchdowns when on a 3 game losing streak. Jaguars to tehir credit don't get blown out too much. Similar to the Texans yesterday though – it's hard to back a team like the Jags. Shenault in for a bad day up against Jalen Ramsay and Marvin Jones not adding anything. No bet.
Las Vegas Raiders vs Washington Football Team:
Washington 1.5 point underdogs. Heinicke has been solid enough for them. The scheduling for this one SUCKS though. Raiders over a week off, Washington just played MNF then had to fly across the country. That all bothers me and concerns me.
Raiders also getting that big win over the Cowboys etc? Yeah I have to take Raiders -1.5 here. I like Washington, I really do, but Raiders are rested, long prep, they are working Jacobs in more to the passing game which I love. McLaurin is going to be stifled by Casey Hayward. Waller likely won't play – but still like the Raiders here and I feel Moreau is a decent replacement.
Bet Horse Racing - +£21,565.98 profit on £25/pt staking. Click for more details.
(Advertisement but we have tested it out and have been quite impressed with it)
Pittsburgh Steelers vs Baltimore Ravens:
Steelers 4.5 point dogs. Man imagine this line before the season began? We'd be all over the Ravens. They've had two solid but unspectacular wins coming into this one. Steelers are all over the place at the moment.
With the Steelers at home, I lean them more. The usage of Hollywood in the Ravens the last couple of games is quite odd with him in the short-area. Dionate will go up against Humprey – ouch.
Strong lean on the Steelers here but just not enough to bet. Just the way they were manhandled last week was concerning.
Seattle Seahawks vs San Francisco 49ers:
49ers come in with confidence. Three wins over the Rams, Jags and Vikings. A crucial game in the NFC West. Seahawks come in having a miserable time of it.
Seahawks rushing game will have issues here. Deebo being out for the 49ers is a concern.
I'm going with 49ers -3 here. The only real concern is the loss of Deebo but I like them to rely heavily on Kittle here which is not a bad thing.
Kansas City Chiefs vs Denver Broncos:
Chiefs are a whopping 9.5 point favourites here. Will Prime Time Pat show up? They're on a 4-0 run of games but the Raiders one was the only big one. In saying that, Cowboys are a decent team as are Packers.
Broncos are hot and cold this season. 3-2 on the road. Bridgewater not even sure if he is playing here and if so he won't be 100%. Broncos defense is a tough one for QBs, and this is a big no bet for me.

Follow @SBTSportBetting