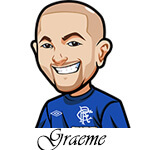 Follow @SBTSportBetting


[Get Exclusive Tips on our Patreon, Ad-Free
]
Hi all,
Apologies for only getting to the tips early Sunday morning. It was a busy weekend with my daughter hosting a Halloween party. Quite fun though as we did a whole bunch of Squid Games releated games – my wife was in the kitchen baking for 3 hours just to do the whole honeycomb challenge.
That went over very well I believe as they were all recording it for their tik toks or snapchats or whatever.
A house with 12 teenagers you would expect some issues but there was only one; along with a ton of Halloween decorations, we also had a smoke machine outside.
This resulted in numerous cars stopping in front of the house or people walking by – everyone coming running up and ringing the doorbell furiously or banging on the door worried our house was on fire.
Quite nice honestly to see people do that. We ended up putting up a big sign "IT'S JUST A FOG MACHINE" so people wouldn't worry.
Let's get on with todays tips.
Falcons vs Panthers:
Falcons 3 point favourites in this divisional battle. Falcons 3-3 in NFC South, Panthers 3-4. Falcons wins kind of padded over Giants, Jets and to a lesser extent the Dolphins.
Panthers after a strong start just a disaster right now. That Giants loss my god. When you look at the Falcons offense though, Ryan is starting to adjust and click and that's a good sign. If Panthers can fix their offense so be it but happy to go with the rolling Falcons -3. Can't wait for them to roll early then blow a lead. Tis the Falcons after all.
Jets vs Bengals:
Bengals 11 point favourites. I wonder if "Are the Bengals for real" is a hot google trend. I still find it hard to back them but look – they've thumped the Lions and the Ravens. Third road game in a row which sucks but I'm fine betting Bengals -11 here and it is what it is.
Texans vs Rams:
16 point spread. No thanks.
Bills vs Dolphins:
Big point spread of 14. Bills blitzed Dolphins 35-0 back in September. That was where Dolphins had to put Brissett in though. All the stats say Bills cover this and then some. My gut says they don't. No bet but I'd lean Dolphins.
Lions vs Eagles:
Eagles 3.5 point underdogs. They come in off the back of two losses to Bucs and Raiders. Detroit Lions got beat by the Rams. The Eagles are a concern though as while a lot of their stuff doesn't look that bad it's all a lot of garbage time. Lions could pull the win off here. I feel the point spread is dead on and no bet for me.
Browns vs Steelers:
Steelers 4.5 point underdogs on the road. Big Ben just not someone I enjoy watching at all. Baker has a shoulder injury although it's his non-throwing arm. Big questions on that though. OBJ has injuries too. This is one where I could see a sneaky win from the Steelers but just can't back them.
Bears vs 49ers:
One of my best friends is a 49ers fan and I am loving it when they lose right now. I am loving even more reading back to him all his texts from pre-season when he'd talk about going undefeated etc.
I am actually going to make him a collage of all those texts, frame it and give it to him as a Christmas gift.
They're 4 point favourites. Bears coming off that routing by the Bucs. 49ers have a lot of talent and I'm fine putting last weeks issues down to the weather. 49ers -4. The key to Fields is just put the boy under pressure. 9ers should be able to do that even though their pass rush has been weak this year.
Colts vs Titans:
Colts 2.5 point favourites here. Just beat the 49ers. Titans though coming off wins over Bills and Chiefs. Titans offense starting to click. Tight one. I lean the Titans here but when I look at the Colts this season they have been solid too and could cause issues.
No bet.

Seahawks vs Jaguars:
Jags just 4 point dogs. They got their first win over the Dolphins then had an entire bye week to celebrate.Seahawks with Geno in haven't been great.
Geno has had two weeks to get used to the offense and I've got to hope Waldren tells them to stop playing so bloody conservative now. Based on that going to go with Seahawks -4.
Chargers vs Patriots:
Pats 4 point dogs. Was a dominant victory over the Jets last week which was much needed by that team. Chargers slightly better than the Jets though. They had that crushing loss to the Ravens and then the bye week. Pats will likely run the ball a lot.
I like the Chargers here. Chargers -4.
Saints vs Bucs:
Bucs 4 point favourites here. This is an interesting one. Winston will be throwing a lot here I expect and we know how that can go. Too erratic for me but I lean Bucs. Gronk might be in but that's still not enough for me.
Broncos vs Washington:
Broncos -3.5 here. Washington coming in off 3 losses. Broncos 4. Last one was the Jets. Had 10 days to prepare for this one. I've said I don't rate the Washington defense. Their running game has no consistency either with the injury to Gibson that he is playing through. McLaurin might have a good game because Darby hasn't been great. Jeudy back. I gotta go with Broncos -3.5. I like this spot a lot.
Vikings vs Cowboys:
With the potential Prescott injury, I'm likely skipping this game. If Prescott plays, I'll bet Cowboys -3 simply because of primetime Cousins. But that's just a personal bet.
Support Us
: We now have a Patreon where we provide some tips exclusively to people who support us on there.
Join them!
Follow @SBTSportBetting