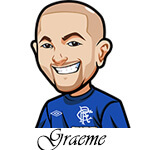 Welcome to Part 2 of the NFL Betting Tips for Week 7.
I've already covered four of the early games in this post. Alas out of those I only was able to find the one bet. It's the way it goes sometimes.
Hopefully I'll be able to find some bets for the games I am going through today.
If not – well I hope my analysis at least helps cement a bet for you.
I'll be back tomorrow morning to cover the late afternoon games and Sunday Night Football.
NFL Week 7 Betting Tips: Part 2
Lions at Falcons Betting Tips:
Lions are 2.5 point underdogs. They haven't been able to get anything really going this year with a tricky schedule but are 2-3 for the year and put up the points. Falcons got that big win over the Vikings for their first W of the season. I have to admit I couldn't watch that game when they had the lead as man – I was so worried for them that they'd blow it again.
Will be interesting seeing how many pass attemps Stafford has this week. It's been pretty low last few weeks but should be different this week. He should be putting up the points here. Ryan also has Julie Jones back of course and that's big news. Lions defense is good for passing against too.
All signs point to a high scoring game and let's hope that's the case. 1u on Over 55pts.
Packers at Texans Betting Tips:
Packers are 3.5 point favourites here. I'm still stunned at how easily they were manhandled by the Bucs. That brought their 4 game run to a crashing halt and boy did Rodgers not look happy. Grumpiest man in football. Texans just had that close loss to the Titans and still only have the one win.
Will be interesting here as the Texans are a team where you generally want to run the ball more against them. I'm just not sure – as good as Watson is – that he will be able to keep up with the Packers. There will need to be some seriously good game planning by the Packers for this game but they should be able to take it. Gotta consider the Rodgers/Adams performances last week an anomaly. 1u on Packers -3.5. Was very close to 2u there but I am shying away from them for some reason.
Steelers at Titans Betting Tips:
Steelers are 1.5 point underdogs. They just crushed the Browns last time out and remain perfect for the year. Titans though goddamn are they one impressive team. Shurt turnaround against the Bills but still had it in them to win in OT against the Texans. I said in that game too we might see a big second half from the Texans and sure enough they were able to put up 26 points. Titans were able to get 15 for the OT though.
This one is too tricky for me to call. I'd say the Titans are the better team but man you can't count out Big Ben. Look at how good Chase Claypool is right now too. What concerns me is the run game. I want to take Titans but I think Steelers stifle Henry here. I'm not going to do any bets on this one although I lean Titans.