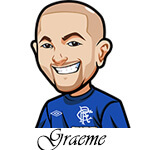 Follow @SBTSportBetting


[Get Exclusive Tips on our Patreon, Ad-Free
]
Well, it was a disappointing 0-1 on Thursday due to the backdoor cover by the Chargers. A busted-up Herbert worked some ridiculous 4th down magic twice.
In saying that if I would have won that one I would have considered myself lucky. The Chiefs offense didn't show up as I expected and it was their defense that won them that game and almost covered the spread, not the offense. Mahomes made a few of his usual god tier plays, but I wasn't too impressed with their overall passing game in that one.
We have a doubleheader on Monday which will be fun.
Let's get to the early games.
Giants vs Panthers:
Giants are 2 point favourites here. They're coming in off the 21-20 win in the Titans game. We got extremely lucky there with the under hitting. Giants got that TD at the end then going for it to take the lead, when they could have taken the easy 7. Then the Titans missing the FG that would have led to a push. That was a lucky, lucky win.
I'm digging the Giants pass rush from last year and I think that spells bad news for Baker. Panthers defense however looked solid last week as well. This could be a huge game for Barkley. I hope so – dude has had a tough time of it.
I'm going with Under 43.5pts for 0.5u here. I think the Panthers need a few more games to find that balance with Baker and CMC. But the Giants offense is very underwhelming too.
I'm not one for player props as I swear I always lose them, but I like Barkley over 75.5 yards at -110 odds. I see him being relied on heavily here. No official bet or anything because now I've said it he'll have like 16 yards and get injured.
Jaguars vs Colts:
Colts are 3 point favourites on the road. They had a 20-20 tie against the Texans. Disappointed in the Colts there. Jags lost to Washington. They looked very poor against the pass so I gotta think Ryan has a very good game here.
On top of that you've got Jonathan Taylor as a great weapon even against the Jags rushing D. Colts offensive injuries are a concern. Pierce is out. Pittman is questionable. Kenny Moore is questionable for the Colts which isn't great.
The WR situation at the Colts isn't enough to completely throw me off. I've got faith in Ryan here whoever his options are. But I'm just going to do a 0.5u play on Colts -3.
Ravens vs Dolphins:
Ravens are 3.5 point favourites at home against the Miami Dolphins. Dolphins got the nice win against the Past last week. Read so much conflicting thoughts etc here on whether Lamar rips this D apart, or gets destroyed himself. Ravens secondary is hurting, but I'm not going to hang my hat on that especially with the Dolphins OL hiurting themselves.
No bet in this one. My gut says the under 44.5 but not enough to back it.
Steelers vs Patriots:
Reeling from their loss to Miami, the Patriots come in as 2.5 point favourites in Pittsburgh. Our biggest win of the week last week was the 2u bet against my Patriots.
I think the worst part of that was the JOY I felt at seeing the Patriots owned by that. My own personal bet on that was a max 5u bet which is why. I stick with 0.5/1/2 on here as I perfer to be conservative.
I'm going with 1u on the Steelers +2.5. Trubisky is certainly a concern in that the Pats are going to pressure him like crazy. If Bill turns it around this week so be it – but I never saw much from that Pats team last week to be too excited. Mitch looked okay in the game management role. T.J. Watt obviously a massive loss, but overall I liked that Steelers defense and their pressure last week on Burrow.
Browns vs Jets:
The Cleveland Browns are 6.5 point favourites against the New York Jets. The Browns are coming in off a hard fought victory over the Panthers. The Jets were blah in a 24-9 loss to the Ravens. Flacco threw a whopping 59 attempts there.
Browns passing D looked good last week, and I think that's bad news for the Jets here. Browns D were very good last year in metrics such as lowest yards per attempt, and it's looking similar this season.
In saying that, I'm very concerned about Jacoby Brissett in this one as the Jets D did not look too shabby last week either and Brissett was – well not very good. He'll certainly improve at this new team, but is it going to be right away or will he take a bit longer?

Saints vs Bucs:
The New Orleans Saints are 2.5 point underdogs against Tom Brady & co. Round two of betting against the Bucs I guess. The problem here is injuries. I expect Winston to play, but Kamara and Ingram are both questionable. Kamara especially isn't looking likely. Ingram with him out last year was basically perfectly average.
But then we also have injuries on the Bucs side. Saints I expect will blitz more and I feel that will work well here.
Saints I was certainly concerned about yesterday. Big comeback but man they looked real sloppy early.
Anyway this is one where it's a bit tough with all the injuries to try and give a conditional pick. But I feel it will all benefit the Saints more. I'm betting 1u on Saints +2.5 – although it may be wise to see who is injured and who is playing, first.
Lions vs Commanders:
The Lions are 1.5 point favourites at home against Washington.
Detroit lost to the Eagles 38-35 but a large portion of the points was in the 4th with 2 TDs.
Washington were an interesting team to watch. I kept having conflicting emotions watching that game – going from "Damn Washington are looking legit" to "Damn Washington are looking utter garbage". Wentz can be reckless, and his play-action capabilities should come in big here.
The Commanders running offense looked good last week and gotta expect it to be similar here. Their rushing D looks to be a write-off after just one week though, so Swift should have a big game although he is questionable.

Follow @SBTSportBetting