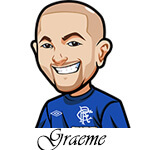 Follow @SBTSportBetting


[Get Exclusive Tips on our Patreon, Ad-Free
]
In this post I will look at the late games taking place in the NFL. The 4pm games plus Sunday Night Football.
We've got four games to look at in the late afternoon with a lot of tight point spreads. The biggest point spread is the Cards +3.5 at home against the Rams.
Vegas believes we're in for a good afternoon of football. Let's get to it:
Jaguars at Chargers:
The Jags are just 3 point dogs following their rout of the Colts here. The prior week they lost to the Commanders 28-22. Last week felt like an anomaly as the Colts were clearly mentally rattled. Chargers coming off that Chiefs loss. Herbert is questionable and I mean even if he does play – do you trust him to play all game?
Chargers defense feels like the sort of defense that come week 6 or 7 will be beastly, but they're not quite there yet.
The Herbert situ is enough for me to bail out on this one. I do feel like the Chargers cover and the Jags come crashing back to earth, but diving into everything to do with Chase Daniel – I have very little confidence in him in case he has to play here.
Falcons at Seahawks:
The Seahawks are 1 point favourites hosting the Atlanta Falcons. Passing on this one as it seems like it could go either way and the line is on the money.
Packers at Buccaneers:
The Bucs are 1 point favourites against Aaron Rodgers and whoever else he decides to drag along with him.

Rams at Cardinals:
Cards are +3.5 dogs at home as mentioned. They got the OT win against the Raiders and lost to the Chiefs, putting up 20+ points per game. Rams after a tough game against the Bills, were able to hang in there against the Falcons.
The Rams just don't look like a team worth betting on though do they? In saying that, they're going up against an absolutely abysmal secondary here. Murray is playing well.
Happy to go with over 48.5 for 0.5u. Like a lot of passing here. The Rams just don't seem to know what to do with their running game yet. Rams D are practically bottom of the table on pressure rate and Murray should get all day to throw.
49ers at Broncos:
Led by Jimmy G, the 49ers are -1.5 favourites against the Denver Broncos. Look I don't mean to be harsh – but I honestly believe the Trey Lance injury is going to be the best thing for the 49ers this season. He just wasn't looking like the real deal at all even with a season to prepare. When Jimmy G stepped in, this 49ers team stepped UP. This team just looked much happier and more comfortable with him in there.
Now the 49ers D stats are excellent at the moment but you can't hang your hat on that. Seahawks are poor, Bears game was played in the middle of the ocean. But it's not like the Broncos offense has been on fire this season either. If you go by the metrics of the first two games – deep passes could be the way to go for Wilson here.
Kittle should be playing which is big. Until the Broncos show me something on offense, I'm happy to back against them in this spot. I know Wilson has had great success against the 49ers but I mean I don't really think you can factor that in. 1u on 49ers -1.5.
Follow @SBTSportBetting