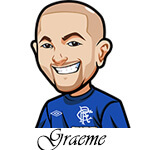 Follow @SBTSportBetting


[Get Exclusive Tips on our Patreon, Ad-Free
]
Well Thursday was just some unfortunate variance. Had Musgrave Over 38.5 receiving yards. The first half was a disaster for the Packers and Love, who was just geting creamed. In the second half, they got rolling and Love had fun using the tight end position as expected. Unfortunately, Musgrave was out with a concussion at that point. So that was lovely. At least I got to go to bed early.
Quick recap of last Sundays plays as I went 2-4:
– Laporta Over 37.5 receiving yards. Win. Nice and easy. I believe that one was done with by the end of the 1st quarter.
– Olave Over 61.5 receiving yards. Win. This one was on such a sweat as he was on 58 yards FOREVER. Finally got there, 104 yards in total.
– Allen Over 251.5 passing yards. Loss. The game wasn't competitive in the least unfortunately. Couple with quite a few incompletions and yep no luck there.
– Collins over 53.5 receiving yards. Loss. Stroud had a decent game as expected and threw a lot. Alas, he spread it around too much for us. Collins was targeted just 3x.
– Spears Over 21.5 rushing yards. Loss. He barely got a chance and when he did he did absolutely nothing with it. The run game couldn't get going at all although I think that is more on the Titans.
– Njoku over 31.5 receiving yards. Loss. He got the same targets as the previous game, just wasn't able to do anything with it. Ended up at 20 yards total.
Pity we couldn't follow up on my clean sweep of Week 2 with another!
Here's this weeks action – quick ones:
– Russell Wilson Over 242.5 Passing Yards
– Puka over 72.5 receiving yards
Write-ups:
Falcons @ Jaguars:
Eh. London game. I'm always wary of things like that. If you want a prop, I think we'll see Bjonn Robinson involved in the passing game a fair bit. Over 25.5 receiving yards could be good. Good defense to utilize this. Not one I am betting though as it can be very game plan dependent.
Ravens @ Browns:
Eh. It looks like it might be a tough game for Lamar, and I'm concerned about Watsons injury. Nada.
Bengals @ Titans:
Could actually be a real tricky outing for Burrow this week. I'm pretty much passing on anything involving the Titans offensively at the moment.
Broncos @ Bears:
Fields I mean just who knows. Wilson is looking solid under Payton this year. Took a little bit to get going and it's sad they are 0-3 as he is playing well.
The Bears pass defense has been brutal and if that changes this week, so be it but I am on Russell Over 242.5 Yards. Looking at the WR matchups makes me like this one even more. Hope they utilize Mims more this week too.
Rams @ Colts:
Stafford should have a good game but that 261.5 seems right on the money. That's how I would set it. I feel like this could be a bad game for the Colts. I'm tempted by Kyren Williams this seems a money matchup for him but the line is 55.5 which he hasnt went over yet this year. Looking at the matchups this should be another big day for Puka. I'm good with Puka Over 72.5 Receiving Yards.
Dolphins @ Bills:
Big test for the Dolphins OL who have been excellent thus far. Allen has stepped things up after week 1. I think we'll see Waddle used big here. But this is a bigger defensive challenge for him. That's one I am leaning at, but restraining from betting. Quite a few question marks.
Vikings @ Panthers:
Kirk Cousins is in freaking machine mode. Of course this is the one season I don't have him on any fantasy teams. Bookies have him at 280.5. Will he fall do earth this week? Carolina love the zonal D and that should suit him well. Helps that he has Jefferson who is just riddiculous, and we are seeing Addison start to become a decent factor too. I want to take Cousins and that over this week but I'm just not loving it. Something seems off for me there. I kinda like Hockenson but thats one where I feel it will be close to the 48.5 line and will be a coinflip if it goes over.
Steelers @ Texans:
Nothing for this one.
Bucs @ Saints:
Bakers biggest test yet. The QB situation at New Orleans yeah I am passing. In theory especially with Winston in there Olave should have a big game but I hate to bet anything on what is still generally "thats how they should play".
Commanders @ Eagles:
Play in this game and 2 other plays on Patreon
Follow @SBTSportBetting