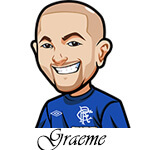 Follow @SBTSportBetting


[Get Exclusive Tips on our Patreon, Ad-Free
]
My god did that Thursday Night Football game suck on practically every level. Had Broncos -3 for that game and man they should have won that game by multiple touchdowns. Russell Wilson looked like he was trending upwards going into that one, and then puts in an absolute stinker.
Broncos had the opportunities, but just couldn't capitalize. Very frustrating and the way their offense is set up that's one that seems we can't touch going forward.
I'll just cover all the games in one post again here. A quick note I am out of town this week. It's possible I may not have any analysis for the TNF game – I will see how my time is. Although Commanders vs Bears isn't one I really want to back anyway. I'll see if my opinion changes from either after this weekend.
It also means next NFL bets will be a bit late as I return home Saturday afternoon. If you follow me for F1, I gotta pop out to lunch after writing these then I'll come home and cover that. Then I gotta go for a nap so I can stay up till 330 am watching it!
Packers vs Giants:
Early game in Europe, and the Packers are 8 point favourites. With all the injuries the Giants are suffering from, you would think the Packers walk all over them. On paper, Rodgers does just that. The problem is I find them very hard to trust. Giants will probably lean on Barkley more in this game, but I'm not feeling that prop this week even though the Packers Run D has allowed one of the highest rushing success rates so far this year.
Buccaneers vs Falcons:
Bucs are 10 point favourites here at home. Most people seem to be on the throught train that due to the divorce situation, Brady is going to come out firing and in beast mode. I guess? It just feels like people have fun betting on narratives like that.
Point spread is too high for me. Mariota struggles against pressure and that could be a big factor in this one.
Vikings vs Bears:
The Vikings return from London and are 7.5 point favourites over Chicago. The Bears just lost to the Giants. Justin Fields looks horrific. Their pass D hasn't been to shabby though and their pressure rate is great and could cause problems for Cousins. This is one where if it was like Vikings -4.5 I'd go with that but I think they may struggle against the Bears D. In theory, Cook should have a good game but man I worry about betting him with all the injury concerns.
Patriots vs Lions:
With Zappe at the helm, the Pats are 3 point favourites here as they host the Detroit Lions.

Jaguars vs Texans:
The Jags are healthy 7 point favourites as they host the Houston Texans. Jags coming off that loss to the Eagles who are a tough team. Texans haven't been too shabby this season honestly.
But the Jags defense should be a tough matchup for Mills. Their offense is looking good. Zay Jones should be back which is nice because we want Kirkin the slot.
The point spread is a bit too hefty for me especially with Dameon Pierce thriving at the moment.
Let's go with Over 66.5 Rushing Yards for Dameon Pierce for 0.5u. They're relying on him more and more, and while Jacksonvilles run defense stats have been good for most of this season, Miles Sanders showed last week they can be exposed.
Browns vs Chargers:
Not too many home dogs this weekend, but the Cleveland Browns are one as the LA Chargers come to town. The Browns just lost to the Atlanta Falcons, and the Chargers bounced back last week to thump the Texans. Herbert looked solid there and should have a good game against the Browns.
Keenan Allen out again is concerning. I do think the Chargers cover here but I also think Chubb has a big game against this rushing "defense". I'm going to go with 1u on Chubb over 91.5 rushing yards. Chargers still really have that inconsistent vibe to them. You look at the metrics on their Run D and they can be exposed big time.
Jets vs Dolphins:
The Jets are another underdog at home, at 3 points against the Miami Dolphins. Dolphins had that let down spot I predicted against the Bengals. The Jets with Zach Wilson at the helm were able to get the win over the Steelers even though he threw two picks.
Of course the Dolphins are rolling with Teddy Bridgewater. Honestly I thought he looked fine against the Bengals especially considering the circumstances. I was getting worried in that one as I thought he might be able to steer them to win.
Bills are the biggest favourites of the weekend at 14 points. They're coming off that close win over the Ravens. They've covered this spread twice this season. Steelers rolling with Kenny Pickett and oh man it's going to be a tough day for him. Although an improvement over Trubisky I bet.
Steelers secondary looks good in the stats but then you look at their opponents and eh. This is a big step up. Davis looks a bit iffy for the Bills though the injury is affecting him. The point spread is a bit too big for me.
Saints vs Seahawks:
The New Orleans Saints are 5 point favourites at home here. No play for me in this one. I'm not ready to get confident with the Saints and Andy Dalton after just one game. Smith is also playing very well and I don't want to bet against Geno. Kamara is expected to be back and that leaves me hesitant to bet against the Saints. If Kamara is out I'd probably look at backing the Seahawks.
Commanders vs Titans:
The Washington Commanders are slight underdogs at 1.5. Titans got that win over the Colts. Washington were yet again terrible against the Cowboys. I remember actually liking them in Week 1 offensively too but boy they are doing terrible, and Wentz is really struggling.
Commanders will likely load up the blitz this week but Tannehill is fine with that. This Titans D does look like something that Wentz could exploit though.
Titans should stop the running game, and Woods has really been stepping up. I have some concerns that Washington get going here and we see an offensive performance similar to the first two weeks. McLaurin especially this could be a very big game for him. Can't see Fulton, MItchell or Farley really stopping him.
Man – this is one where I really like Titans -1.5 but I do worry – Wentz has had two bad games but if he is able to turn that around this week, at home against a weak defense, things could go very different. I've sat here analyzing this one for awhile, and am not going to advise a play.
Panthers vs 49ers:
Jimmy G & co are 6.5 point favourites on the road here. Not betting anything involving Jimmy G at the moment. They beat a Rams team that are struggling but a heavy reliance on D there, and then some magic from Deebo.
Maybe if the 49ers start using Kittle more I'll look into backing them more. It's ridiculous how little they use him on the offense and I hope they do it this week.
Rams vs Cowboys:
The LA Rams are 5.5 point favourites at home to the Dallas Cowboys. Cooper Rush will be the QB for this one. Rams are a big, big concern at the moment. The Cowboys D have looked good. My gut says we see a bounce back game from the Rams here but man we saw that bounce back against the Falcons and they barely won after a Falcons coemback. Nothing for this one.
Cardinals vs Eagles:
The Cards are 5.5 point dogs at home to the Philadelphia Eagles. I'm happy to back the Eagles. Their defense can be a bit sloppy at times which is concerning. Avonte Maddox is out which isn't great. Darius Slay in though which is nice. Cards rushing defensive metrics aren't too bad but Standers is a good step up. Happy to go with 0.5u on Eagles -5.5 and an 0.5u on Goedert over 46.5 receiving yards. Feel this is a good matchup for Goedert, plus I think Hurts will feel the pressure in this game and he is his go to guy.
Ravens vs Bengals:
In the big SNF game, the Cincinnati Bengals are on the road in Baltimore and are 3.5 point underdogs. Ravens had that tough loss to the Bills last week but have looked great this season I feel. Bengals now have two in a row but man I'm still not convinced.
Watching that game against the Dolphins, I really thought they were ripe to lose that one during it. Burrow does seem to be getting condience back though, and he should be able to put the points up against the Ravens.
Bengals defense though can be stingy. The extra rest may help too. Ravens without Bateman. Probably used the time to figure out how to make Chase a bigger part of them.
I think there is just enough here for me to go with 0.5u on the Bengals +3.5.
Follow @SBTSportBetting