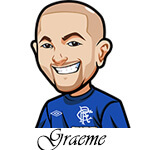 Follow @SBTSportBetting


[Get Exclusive Tips on our Patreon, Ad-Free
]
No F1 tips this week. I'm still sick as all hell, and had to resume NHL betting duties this weekend. Saturdays are insane. 15 freaking games. I cannot wait to get to bed ha.
Alrighty so we got off to a nice and easy winning start to the week with Derek Carr and the over in receiving yards – this was a juicy Patreon exclusive. Slightly nerve-wracking start but then it was never in doubt.
I skipped last week due to illness. The week before was a winning week with 3-2 on our main plays. Would have likely been 4-1 if Richardson hadn't went down as his numbers were impressive. Lost the 0.5u play on LaPorta who managed to score 2 TDs while staying below 52.5. Toughie.
Bucs vs Falcons:
I'm pretty tempted by that Baker Over 1.5 passing touchdowns at 2.75. Instead I am going with Pitts Over 33.5 Receiving Yards. Decent enough team to use the tight end against, and his physical presence should be a factor here. Tight ends should be a big part of the offense this week in my opinion.
Patriots vs Bills:
As a Patriots fan who has lots of friends who are Bills fans – ugh. I can see Diggs having a good game but I mean you don't need me to tell you that. Not enough confidence in anything really.
Colts vs Browns:
Watson with the rotator cuff injury is concenring. This Browns defense should have a field day with Minshew. I was close to a play on Cooper and over 4.5 receptions but it's just a bit too high for me.
Ravens vs Lions:
Nothing jumping out for me here. I expect LaPorta to have a tough game and under 43.5 is the only play I really like there but not enough to back.
Bears vs Raiders:
With the QBs in – yeah I am fine passing on this. Too much theoretical guessing for my liking.
Giants vs Commanders:
Giants slight dogs at home. Feel like Howell should have a solid game here if he can handle the blitz. However, I'm going to go with 0.5u on Brian Robinson Over 62.5 rushing yards. He is of course, very game script dependent so that's where a good bit of the risk comes in. I just am not convinced on Howell here and how he will handle it. Meanwhile this is a good defense for Robinson to really get going against.
Seahawks vs Cardinals:
Like Geno to have a good game here. Over on passing yards is 253.5. This is a good matchup for him to go over that total for the 4th time this season. Of course you need the Cardinals to make a game of it. Although it's a hefty point spread, I think they can hang with them. Metcalf likely being out is a concern for sure. I'm going with 0.5u on Geno over 253.5 as I like it, but there's just a few red flags that are putting me off the full bet.
Rams vs Steelers:
Broncos vs Packers:
Chiefs vs Chargers:
A tad concerned Herbert will struggle in this one so that turns me off their offense, but I'm also not loving much on the Chiefs offense. The over on Kelce is 74.5 and I mean I can see it for sure but he has only went over that once this season. I will pass.
Eagles vs Dolphins:
Follow @SBTSportBetting