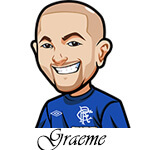 Follow @SBTSportBetting
Yikes are we really on Week 8 of the NFL?
Where the hell does the season go?
It was a slight winning week last week with the NFL Tips as we went 7-4 overall.
Hoping to continue that this week. We unfortunately started with a loss on the Vikings vs Redskins game. Vin took Over 41.5 in that one but that one went under as the Vikings won 19-9.
As always I will look at the early games in this post then do a separate post later covering the late games:
Cardinals at Saints:
Bengals at Rams: This one is in London and A.J. Green is out. Bengals are 12.5 point underdogs here. Goff however can't get the passing going too it seems so this could end up being a dull, dull affair. Bengals look terrible and with Malcolm Brown out, Gurley should tear them apart. Rams -12.5. Cooper Kupp should put up a bigger game this week.
Broncos at Colts: 4.5 points? Really? Not sure why that is. Broncos haven't looked good and Flacco is seriously strugglign. Colts aren't too shabby. Jacoby Brissett is playing excellent and I like him a lot. Sure Broncos defense has been tough on QBs but the colts have been good at putting the points up all season long and I'm very happy to back Colts -4.5 here.
Chargers at Bears: Bears are 3.5 point favourites here. Rivers looked good last week and also has Russell Okung back this week I believe. Trubisky we can't expect much from in my opinion and I see them running the ball a lot more. The Chargers need to figure out the RB situation and fast. Melvin Gordon being back has caused more issues than expected. Keenan Allen isn't 100% and I'll go with Bears -3.5. Hopefully Allen will be out which will be a wee bonus.
Giants at Lions: Giants are 6.5 point favourites here. I'll take the less than a touchdown. Lions have their issues but honestly they are just a much better team than the Giants and should take this one comfortably in my opinion. Lions -6.5 and I expect Ty Johnson to have a good game. He has a lot to prove.
Jets at Jaguars: Jets suck as we know. Minshew has been weak the past couple of weeks and Foles is close to returning so that's quite interesting. Fournette is doing solid. This is a tough tough game but I like the Jags to do the business. Jags -6.5
Eagles at Bills: Bills are 2 point favourites here. Eagles looked flast last week against the Cowboys. Bills were a bit disappointing against the Dolphins. Got to think the Bills defense does the business here regardless of the offense. Bills -2
Seahawks at Falcons: The Matt Ryan injury is a big concern for the Falcons and Seahawks are -7.5 points. They probably cover that but on the road I can't back them. In saying that Russell Wilson SHOULD have a field day when you look at Falcons crazy stats involving QBs rushing. They've allowed a rushing TD to 6 QBs!!! Bet Wilson to score rushing TD at +200. And bet him to get the first of the game at +1600.
Buccaneers at Titans: Tannehill looked quite solid last week I've got to say. Titans are 2.5 point favourites here. Honestly Winston is such a high variable that I have no idea what to do. I'd probably say that Bucs cover to be honest but I am not going with anything involving Winston.
Follow @SBTSportBetting