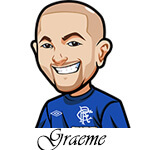 Follow @SBTSportBetting


[Get Exclusive Tips on our Patreon, Ad-Free
]
That was an absolutely insane night in the NBA and NHL and we hope you stayed up late to enjoy all the fun!
It's too late for me but I watch the games in the morning that take place on the West Coast. Knights were up 3-0 and 10 minutes left. I hit fast forward when Pavelski goes down as hey just want to wrap this one up. Then I glance away for a minute, look back and it's 3-2. WTF????
Absolutely insane ending that one. What a set of playoffs.
And then there was the NBA. Looked like overtime in the Blazers vs Thunder game but Lillard had other ideas. What a ridiculous shot.
That guy is the MVP of the playoffs so far.
It's April 24th, 2019 and we've got three big games tonight. Let's do some analysis:
Hurricanes vs Capitals Game 7:
I want the Hurricanes to go through but it's really hard to bet against the Washington Capitals. The big question is Ovechkin. He looked like he was flipping his lid in the last game and how will that affect things tonight? Will he channel that energy into a sensational performance?
It's one of those where I think the value is on the Hurricanes, however the home team has won each game in this series and I don't see that changing. Look at that Capitals performance last time at home. Absolutely sick and I see similar.
I'd take the Capitals to win.
Warriors vs Clippers Game 5 Betting Tips:
Yeah no surprise we are seeing the gentlemans sweep. I predicted that one and I'd be stunned if it didn't come in.
In saying that, hey the Warriors have been battling with complacency all season. And you know what? This is the type of game that during the regular season we'd just assume Warriors have got it.
Thinking back to all those games in the regular season, it makes me think that man the Clippers have a chance. I'd advise a bet on Clippers +14.5 and then a small bet on Clippers to win. Honestly when you think of the Warriors performances in games like this, +950 has to be a +EV bet. And yes I am quite prepared to be humiliated with that one.
Rockets vs Jazz Game 5 Betting Tips:
Interesting one this. We saw a much better performance from the Utah Jazz in Game 4 and it looks like they have finally figured out how to stifle the Rockets offense. Question though is will that be enough for this game?
It's going to be a very interesting one. Rockets will want to come out fast while the Jazz will want to contain them but Jazz may also want to go out fast.
I think this is the type of game where game plans go out the window and that's bad news for the Jazz. If they had played in Game 3 like they did Game 4 I think they could have won the two home games and scared the Rockets. As it is I'll take Rockets -8.5 with the Jazz unable to contain Harden and just collapsing.
Follow @SBTSportBetting