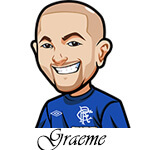 Follow @SBTSportBetting


[Get Exclusive Tips on our Patreon, Ad-Free
]
Hi guys,
First a big thank you to Elias for his donation over the weekend. Truly appreciated.
Hope you've been following me over at BetNHL.ca as I've been on a hot streak. 5-0 since I started writing over there on Friday.
Scott takes over today through Thursday, so I am back on here for some NHL Quick Bets. As I said before these are initial writeups I use mostly as my own notes when I go to discuss the games with Scott, but figured I'd share as might give you some potential bets etc.
Bet Horse Racing - +£21,565.98 profit on £25/pt staking. Click for more details.
(Advertisement but we have tested it out and have been quite impressed with it)
Devils vs Flames: Calgary slight underdogs here. The only reason I can think that is they are on a back-to-back. We don't have too much data from the Devils to go on this season. They have seemed a tad underwhelming even if they have a 3-1-0 record. I'd love to say slight lean on Flames, but with Vladar likely in the net I say this is a pass. Plus Devils may be riding confidence with the win over the greatest NHL team in the Sabres, and Daws having a strong game. Yeah this is an easy no play for me.
Lightning vs Penguins: If you're betting Tampa to win here because they're due a big bounce-back game etc you're an idiot. Not saying they won't but they have just been a mess all season long. I don't care about the Penguins injuries etc. They've been able to do very well this season, and by results/performances and just plain math, you have to bet the Penguins to win today. Much like backing the Leafs yesterday, or the Sabres yesterday.
For the record, Penguins look to be without Crosby, Malkin, Rust, Carter, Letang. Brutal. But they did do the job against the Leafs without them too and as 2.30 underdogs, I gotta take them.
Avs vs Knights: Who knew we'd be looking to fade the Knights this season? The problem is the Avs haven't really done much either. Granted they have played tough games. Avs in regulation is a play a lot of people will be on but not me. When you look at the advanced metrics, they do not deserve to be such heavy favourites for this one. I'd actually go with the Knights here as I feel there is value in that line due to performances of both this season. Goaltending was a big factor in that Islanders game.
Predators vs Sharks: Sharks suffered their first loss away to the Bruins. They clawed back a couple of goals at the end. Preds for their second win over the Wild. What's notable is the Preds offense is hot. This is one where I'd have to dive into the advanced metrics more but a lean towards the Over 6 incl OT.
Canucks vs Wild: Canucks home opener. The Larscheiders will be there. They always perform for them. Happy to back Canucks to win. In saying that Over 5.5 might be a good play too as it will be a very lively game. Both plays have merit.
Ducks vs Jets: Jets look to have found their mojo. Ducks are not looking good right now. Lean the Jets but the odds aren't there for me to back them. Would have to be in regulation and I don't have that confidence.
Kraken vs Canadiens: An interesting one because the Habs are awful this season, but the Kraken after a great start aren't too much better. If we take out that Habs/Red Wings game, this would be an automatic bet on the Kraken. At the price, I do think Kraken are worth the bet although would have to look into the advanced metrics more.
Support Us
: We now have a Patreon where we provide some tips exclusively to people who support us on there.
Join them!
Follow @SBTSportBetting