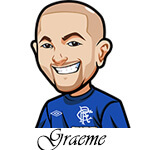 Follow @SBTSportBetting
Always the bridesmaid, never the bride.
That was the thought process after last week – although to be honest I was quite happy with myself. I didn't find much in the tournament last week so I only had two tips – Webb Simpson to win, Ryan Moore to win/top 5.
Webb ended up coming 2nd, while Moore ended up coming 6th. So while we didn't win anything I was feeling pretty happy to come that close. Especially considering an anomaly like Snedeker and his first round. Nothing you can do there.
Let's get right into this weeks tips. Always a fun time with the FedEx Cup Playoffs.
Northern Trust 2018 Betting Tips:
It used to be called the Barclays and this year it's being held at Ridgewood. It was last held here in 2014 where Hunter Mahan won it. He's someone I've tipped or had on my radar the last few weeks interestingly enough. So of course he isn't playing this week ha. I'd have blind bet him for sure.
Interesting course. The three par 5s are reported to be bloody difficult so will be interesting to see if they change the results at all. This is honestly one of those courses where I feel with the changes to it since 2014, you can really interpret it a whole bunch of different ways.
Only small bets on each this week as it's one of those where I just feel it's very conflicting as to what will go on here. If you've been following the past couple of weeks you know there's been a lack of picks as I haven't been feeling it. Despite the almost success last week I'm still in the same mood in regard to confidence. Like I've said in the past couple of weeks if we end up with nothing going on in the final round I won't be shocked. Only fair to be honest with you guys in my level of confidence.
Tiger Woods: Bet him at 14/1
I'm going for 1/4 unit on Tiger Woods to win. I mean we know what Tiger is capable off and we have seen some incredible performances from him of late. This is one of those courses where there is just so much going on and an all round excellent golfer like Tiger might just do it.
The price is quote good considering too – no Tiger Tax this week and that's nice to see. Tiger is hungry and he's been consistent and I'm happy to back him. In saying that he doesn't have the best record on these style of courses historically.
Justin Thomas: Bet him at 12/1
This type of course seems suited for Thomas who still appears to be at the top of his game. He plays well on courses like this and you just get the feeling he is looking like he is ready for another win. I'm doing 1/4 unit to win.
Tony Finau: Bet him at 55/1
Almost getting tired of tipping Tony but it's hard not to. Yeah it's been quite awhile since he got in a top 5 but he hits all the metrics and seems to still be in solid enough form. The metrics line up well for this course too. In saying that I'm only risking 1/4 unit to win & E/W.
Patrick Cantlay: Bet him at 33/1
Another golfer who has been performing well and I think he will perform well on this type of course. But with the stacked field at the top I'm fine with just 1/4 unit to win & E/W.
Czech Masters 2018 Betting Tips:
This is one I generally prefer at least in terms of analysis. You look at what's factored in the previous years and it makes it a lot easier to trim the fat and come up with a solid shortlist.
Interestingly form coming into it doesn't seem to be a big one if you look the previous winners. Like Pieters & Donaldson both hadn't cracked a top 20 coming in, Peterson was on the Asian Tour and Porteous had been hanging out on the Sunshine tour.
Makes things interesting with potential for big shocks. The majority of golfers coming up for me are high odds players so let's sprinkle 1/8 unit to win & E/W on the following:
JC Ritchie: Bet at 50/1
Scott Vincent: Bet at 66/1
Paul Peterson: Bet at 80/1
Nick Cullen: Bet at 140/1
Matthew Millar: Bet at 225/1
Sebastien Gros: Bet at 90/1
Haydn Porteous: Bet at 33/1
Follow @SBTSportBetting