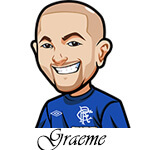 Follow @SBTSportBetting
I was incredibly close last week with the golf betting tips. It was the Wyndham Championship and I only had two picks – Webb Simpson to win, and Ryan Moore to win/get in the top 5.
Webb ended up coming 2nd, and Moore ended up coming 6th.
Any other week Webb probably would have won that one or at least forced a playoff. Nothing you can do about freak results like that 59 that was shot in round 1 ha. As it is I'm glad Snedeker won that one – he really deserved it after that.
In the CFL I went 2-2. Some surprise results including the Stampeders finally losing. What a great performance though by Saskatchewan and I have to admit it was fully deserved.
Hope you got on my Summerslam betting tips with a nice few winners like Charlotte Flair at +235 and Samoa Joe at +155.
It's August 22nd, let's cover the golf & cfl for this week.
Golf Bets – Aug 22nd, 2018:
Two tournaments I am covering.
All are 1/4 unit bets. My unit sizing is 1/8, 1/4, 1/2 and 1 for reference.
I'm taking Tiger Woods to win the tournament. It's only a small bet as I find he tends to struggle on these type of courses but the way he has been playing at the moment, and at 14/1 odds, I'm completely fine with backing him.
I'm also taking Justin Thomas to win as well. He's playing excellent at the moment and this course checks all the boxes for him.
I'm doing two bets to win and top 5 which are Tony Finau and Patrick Cantlay. Both in the same boat in that they look good on the metrics, should perform well here etc and form has been decent enough.
I have 3 bets of 1/4 unit which are: JC Ritchie, Scott Vincent, Paul Peterson.
And I have 4 bets of 1/8 unit which are Nick Cullen, Matthew Millar, Sebastien Gros, Haydn Porteous.
All are to win/top 5 if you are in the USA, or to win & e/w if you are elsewhere.
CFL Week 11 Betting Tips:
This is a team that seem motivated. They are taking their early season loss to Hamilton personally and are out for vengeance in this one. I'm always down for backing vengeance.
Really unsure why the Alouettes aren't double digits this week. Yeah they are at home but Toronto have been fighting hard and you've got to think the Argonauts will really want a big win here to move up the East. I like them to come otu fired up.
It was a wakeup call for the Stampeders last week but I felt it was less on them and more on the Roughriders exceptional performance. Fine with backing Calgary to bounce back.
Exceptional performance last week and I've got to think they follow it up and keep the ball rolling. That was some sick defensive work and the offense matched them.
Follow @SBTSportBetting