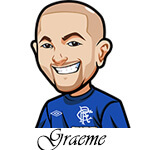 Follow @SBTSportBetting


[Get Exclusive Tips on our Patreon, Ad-Free
]
Alright so after a week off, I am back at it and ready to tackle this weeks golf tips.
I mentioned it last week but I decided to take a week off after the PGA Championship. That was a tough one to take where Cameron Champ, my 150/1 bet, went from hero to zero over the course of a couple of holes.
It happens in golf but no matter how often it happens it's still always tough to take.
It wasn't a total write-off of a week however for me. One of my bets posted here came in at least which was Bryson DeChambeau cashing although it wasn't really for much.
However a few weeks ago I added the "tip box" to the site. You might have seen it. Within it I mention that if I start getting some cash via that it'll encourage me to write additional betting tips etc.
Well the guys over at SportsBettingTips.org hire me to do golf tips every now and then. Not too often; usually for a Major or when things are a bit quiet. It's a pretty easy gig I simply rewrite the tips I have posted here and send them in there.
They saw the tip box and they said to me "Hey if we pay you extra, how about a couple of exclusive picks for the site?".
This was pretty late on so I didn't have time to dive into additional prop bets etc. However I had all the data in front of me and said sure why not – went with two additional picks:





And the Casey pick of course came in. Here's the slip: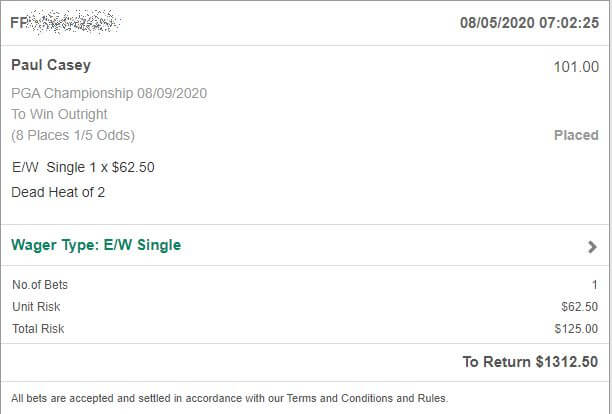 And here is the DeChambeau one: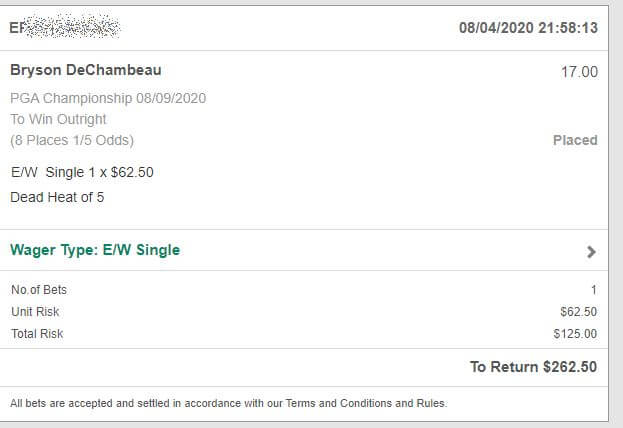 So while the Cameron Champ deal was a bloody disaster, I still ended up profitable which was nice.
Not sure how often I'll be writing tips there or if they will ask for exclusive picks or not but after that Casey pick, my rate has just went up! 😉
Alright onto the Northern Trust:
Northern Trust 2020 Betting Tips:
TPC Boston really suits aggressive players I find. The Par 4s and performance on those will be a big factor. Par 5s are a nightmare. This is an interesting tournament as there was a lot of people I considered as big underdog plays that just didn't make the cut such as Grillo and Oosthuizen.
$500 on Bryson DeChambeau to win at 11/1. I went back and forth on $250 or $500 considering it is to win and not E/W however I decided to go with "To Win". Top of the metrics for this course for me. Great outing at the PGA Championship. Previous winner here. His insane driving at the moment could see him completely dominate. Most importantly was the odds. If his name was Rory McIlroy, based on everything going into this course he would be like 6/1 or 7/1 at best.
Because I am going fairly high on DeChambeau, all other bets will be impacted and I will do bets to round it up to $1k.
$125 on Tony Finau at 33/1 E/W. I honestly hate betting Tony. I really do. Always there or thereabouts and that's it. Stupid stupid stupid. But the due shows up on the metrics for this course. I've weighed it in my head and I believe he is worth it.
$125 on Xander Schauffele at 22/1 E/W. Hasn't performed too great here in the past however is playing well, makes it in the metrics.
$125 on Paul Casey at 50/1 E/W. Couple of solid performances lately. A 2nd and a 4th place at TPC Boston over the years. Surprised at this price and worth the play.
$62.50 on Cameron Champ at 90/1 E/W. Honestly I think he will struggle here. The putting is a big issue. However he has performed better on Bentgrass than anywhere else this year. His driving will be a big factor. No clue how he will deal with that choke. But at that price and with his driving it's worth it.
$62.50 on Patrick Reed at 30/1 E/W. Went back and forth on this one. Not a big fan of the price however he has been in solid form and looked great at the end of the Wyndham. Defending champion although different course. Worth a small play.
Northern Trust Daily Fantasy Tips:
People are always asking me for daily fantasy golf tips. Honestly it's something I'm not really up for covering in-depth as I would have to spend so long analyzing the players and as much as I enjoy it from a casual perspective, it can be frustrating from a serious perspective.
Anyway if you're interested in playing it, play it at FanDuel. Feeling good after that win 2 weeks ago so figured I'd share my lineup:
Follow @SBTSportBetting