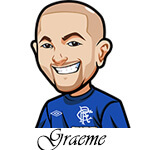 As Vin mentioned yesterday there were changes to the site last night.
I won't bore you with all the details. But basically, it was a rebranding from the generic "Sports Betting Tips" to "Vin & Graeme's Betting Tips". Or if you wish to use the acronym, VAG TIPS. Or VAG BETS or whatever. We're still figuring out the best terminology.
Over the years, we have ran many separate website for individual sports writing betting tips. However that has been a lot of work. it really sucks spending hours analyzing all my golf data, writing up a 500+ word article for one website, then having to write it again for another.
So we have been slowly merging sites into this one. BetMLB.org was one. NBATips.net was another. WNBATips.com yet another. F1Betting.Tips as well etc.
We decided to give this site our primary focus going forward as we were feeling stretched with work so you will see some other sites that I run merge into this as well. The Golf Tips site for example.
One other reason for that is to make life easier for you. So many of you subscribe to all my different websites and that's awesome. But now you will have a one stop shop for the majority of them.
Some websites will remain as they are – BetNHL.ca for example, and BetWWE.com. Others I am unsure about such as BetSoccer.ca – see how things go.
Last night was just about getting the new theme going and making sure nothing was broken. There'll be more changes going forward. You'll also see me writing on here a lot more as time progresses now my time is freed up more.
Speaking of I thought for today I'd do something fun just to provide tips content and provide NHL Betting Tips PURELY from match up advanced metrics.
What that means is I am not looking at any other data and just looking at matchups between the two teams this season, and what the advanced metrics suggest. This is much different from my work at BetNHL.ca where I factor in so many other things such as form, home/away, goalies etc etc.
So no idea how these will go – I mean Grub is probably back for the Avs as well as a few others so that's a big factor not considering. Oh it's also factoring in all strengths and not just 5 vs 5 for those who wish to look it up themselves. Let's just see what we got:
Canadiens vs Jets:
These teams have played about 100 matchups this season so we have a lot of data. The Habs have a higher Corsi in the majority of those games. Fenwick better than average as well. xGF generally better. HDCF is very close and about 50/50,
What that suggests is despite the Jets having won more than the Habs, the Habs have played better in the games. It's more notable on those close games too. Their PDO has been low in most losses. What that all says is that Canadiens at -110 is a good play.
Avalanche vs Sharks:
Four matchups between the teams. Like against almost all teams this season, Avs rock the advanced metrics. Higher corsi & Fenwick every game. xGF has been higher in all but the January 26 game.
All of these metrics have resulted in the Avs getting 3 wins out of 4 games that covered the -1.5. So based on the matchups so far that March 1st game was a rare one, and if all goes the way it is, Avs -1.5 is fine. -115 for that one.
Ducks vs Kings:
6 matchups between the teams this season. It is very split in regard to CF%. FF% as well. The Kings have had the advantage on xGF in all but one game though. The lack of HDGF for teams despite high HDCF in some games says that goalscoring can be an issue at times. Basically this is one where we 100% cannot decide anything based on the advanced metrics. There is too much conflicting data and any play based purely on that would be reckless.
Coyotes vs Knights:
The Coyotes have actually had a better Corsi in a couple of games but that hasn't really mattered. Event eh odd game better HDCF and xG yet again it doesn't matter in the results.
What that basically says is even when the Coyotes play well it primarily doesn't matter and we can take the Knights with confidence.
So Knights in Regulation at -135 is fine.
So that's how things work just based on purely matchups. If anything it is just a decent starting point for you. Ignoring the other stuff – advanced metrics wise you want to see if there is any anomaly in the data compared to the teams other games and if it's a bigger factor in matchups against this opponent. You also want to look at why it was – like so much can affect things such as who is in net etc.
Like I said though that was just a quick look from me at it. There are so much more and I really just wanted to get some content up.
Anyway hope everyone enjoys the "new" site. Lot of changes – all good – forthcoming. Comments are back and we've ditched Disqus as found it was too slow and most people hated it.