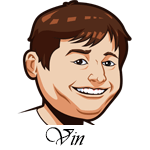 Follow @SBTSportBetting
1-2 last night.
A half point cost us a winning night in Philadelphia. The Warriors laid -8.5 and won by eight, that was a tough one. The Warriors were a victim of their own success here as they had a 47-15 run in the third that pretty much sewed this one up. They ended up dropping the fourth quarter by two and it ended up costing us.
The Jazz showed something that they haven't shown all season as they absolutely blitzed the Magic. Definitely on the wrong side there.
Our beloved Celtics covered easily in Atlanta to give us the win in that game and save our night.
We have three picks again today so let's get into those and finish the weekend on a strong note.
Golden State Warriors vs. Brooklyn Nets Betting Tips:
We are going back to the well with the Warriors here. This is the classic example of one team playing checkers while the others are playing chess. Brooklyn is in the midst of the rebuild while the Warriors are on the midst of one of the greatest four year runs in NBA history. This should be a blow out and the Warriors -13 is an easy call for us.
Chicago Bulls vs. Phoenix Suns Betting Tips:
Nothing like a Sunday match-up of two of the worst teams in the NBA. The Bulls are terrible on just about every front while the Suns have the rough outline of a team that might be good someday. You can guess who we are going with here.
The thing about the Bulls is they can't score. They are second to last in offensive rating at 95 while the Suns are at 100.8. Phoenix also plays at a much faster pace which we think should be a huge problem for Chicago.
Look, for a team like Phoenix you have to grab the wins where you can. At home, on a Sunday, against the Bulls is exactly the time to do that. Phoenix -3 is in prime position to win tonight.
Denver Nuggets vs. Los Angeles Lakers Betting Tips:
We really like the way that the Nuggets have played as of late. Denver is 8-3 over their past eleven and they have a really impressive offense. Their offense is currently sixth in the offensive rating and they are just getting stronger as things go on. They have struggled a bit on the road this season, but tonight they get a nice match-up against the Lakers.
LA hasn't been quite what anyone was expecting thus far this season. Lonzo Ball has shown signs of greatness, but overall he has raised more red flags than anything. He doesn't seem to like the ball in his hand which is not good news for a point guard. This team is really disappointing on offense with just a 97.7 offensive rating, 28th in the NBA.
We like the Nuggets -5.5 to continue their strong ways and have a strong showing on the road here tonight. This team absolutely destroyed the Pelicans on Friday and we think they could do that sort of thing again here tonight.
Follow @SBTSportBetting