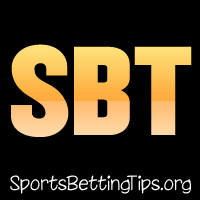 Follow @SBTSportBetting
A 1-1-1 record last night brings our weekend total to 7-3. Not bad for a three day haul.
Last night was a weird one with only the three games. Our win was the Nets +4 over Memphis. They won the game outright as we hinted they might as the Grizzlies continue to be a mess without Conley.
The push came as Miami -7 only beat the Bulls by seven. We thought they'd do a bit more on offense which ultimately cost us in the over of 197. The game ended at 193.
Today starts a new week so let's get it off to a great start. We've been winning at a nice clip lately and after a slow start we now have a winning record on the season. Let's keep it up.
Orlando Magic vs. Indiana Pacers Betting Tips:
The Indiana Pacers continue to surprise people and we are starting to take notice. They are 10th in Net Rating with a very nice 107.4 offensive rating on the year. They are at home tonight with a nice line and a team that is on the opposite trend.
Orlando was a team that was surprising teams early, but their three point shooting was at a level that you couldn't expect to keep up and they have started to lose as the shooting has went away. The future is still somewhat bright for this team, but they are one such a bad run right now that we aren't going to bet on them coming out of it.
The Pacers -4 is our top pick tonight as this is a match-up team on really opposite paths.
Cleveland Cavaliers vs. Philadelphia 76ers Betting Tips:
The Cavaliers are in the midst of a seven game winning streak that nobody is really talking about. People seem to enjoy the drama with this team more than they enjoy when they are actually doing well. They have really been scoring the ball well as the offense is starting to figure things out and really cook.
The 76ers have been really growing as well of late and they are expected to get back Ben Simmons to cover LeBron James. We love the way this team has been playing of late, but we also don't like what Joel Embiid has been doing. Joel Embiid has been talking a lot and that is never a good thing before you play LeBron James. He feeds off motivation and Embiid's talk has given him a lot tonight.
This is a big game for the 76ers which is exactly why I think the Cavs -2.5 are going to show up strong tonight. Whenever LeBron says "Who cares?" about an opposing player, look out.
Detroit Pistons vs. Boston Celtics Betting Tips:
We are starting to feel like a broken record with this Celtics team. They are just really playing great basketball right now and it's hard to miss them on the schedule. They are at home tonight, playing a team that they are far more consistent than and it's hard not to go back to the well one more time.
Celtics -6.5. They have done us well this season, let's see them do it again.
Follow @SBTSportBetting