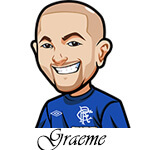 Follow @SBTSportBetting
Welcome to the sports betting tips for November 7th, 2018.
We've got a couple of golf tournaments to cover, the CFL has entered the playoff stage and we've got NBA action for tonight as well.
Going to skip the NHL today as out of the three games there really isn't anything standing out.
Also for the early birds we've got some UEFA Champions League Tips.
So let's get to it:
UEFA Champions League Betting Tips:
First of all you can read my daily soccer betting tips over at BetSoccer.ca complete with unit sizing. I bet on a variety of different leagues there. If you're checking it out for the first time I've been a bit busy lately but will get all the stats updated on there soon!
Juventus To Win: Man Utd have had a couple of solid results but the game at Old Trafford was total domination for Juventus. They looked in an entirely different tier and I see nothing different at home.
Double of Valencia to win, Lyon vs Hoffenheim Over 2.5 Goals. I'm always good backing a team who really need to win and that's Valencia. If they have any hope of qualifying for the next round they need victory here. And we saw how Lyon vs Hoffenheim went at it last time out. I kinda want to bet Lyon here but both these teams look hungry and should be a nice open game.
Golf Tips:
In the Mayakoba I am taking the following: Tony Finau Top 5, Rickie Fowler to Win, Sam Ryder and Cameron Davis Both To win & Top 5/EW.
Finau I don't think has the winners gene in him at the moment but he is coming close enough that I'm thinking he can be a contender. Fowler is someone I often avoid as there have been many heartbreaking Sundays but I think he's got what it takes here. Can't think of a better time to back him.
Ryder and Davis are both solid putters and that's a big factor on this course.
In the Nedbank I've gone with Sergio Garcia to win, Danny Willett, Sam Horsfield and Lucas Bjerreagaard all to win and Top 5/EW.
Garcia I feel is a decent price despite being 9/1 and worth a small bet. Bjerregaard hasn't performed too great here but his form at the moment is excellent and I think he has what it takes for this course. Horsfield I believe matches up well with this course and Willett is looking like he is coming in hot at a tournament he has won previously.
CFL Tips:
I'm going with Tiger-Cats -2. I just think their offense is absolutely incredible and while the BC Lions can match up with them Hamilton should take over. I believe Tiger-Cats are so low in odds because of their last few performances however bear in mind they had a lot of injuries and just wanted to get here without picking up any more.
I'm also taking Roughriders -3 as I think Saskatchewan are overall the best team, almost won the division and should clean the Blue Bombers clocks to be honest. Winnipeg will struggle hard against this top ranked defense.
NBA Tips:
Pistons -1.5: Time for Detroit to get back on track and this is a nice winnable game. Magic I did not think looked that good against the Cavs and the Pistons should come in extra motivated.
I feel the Pacers -2.5 is a play as the Pacers offense is good enough to battle it out with anyone and their defense should limit the 76ers guys like Embiid and Simmons.
Finally Team LeBron -5 is what I am going for as the Cavs come to town. Lakers out for revenge and Timberwolves struggle on the road.
Follow @SBTSportBetting