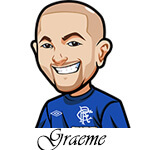 Hi everyone,
Quick note that I may be changing the golf betting tips from Tuesdays to Wednesdays for most weeks.
I've been doing them on Tuesdays forever but there's someone I've been consulting on the golf tips who also does a lot of data analysis and I usually never have the chance to talk to him on Tuesday evenings.
It's usually not been a big deal – it's more just a chat between two guys who bet golf – but last week he went hard on convincing me on DeChambeau. I didn't feel DeChambeau was worth it last week at 12/1 personally but he put enough convincing data that I probably would have flaoted at least a 1/4 on him. Of course he won and I'm being naturally overreactive to that ha.
Anyway it's not going to be every week but there's going to be quite a few weeks where the tips come out Wednesday. Just a heads up on that as I know the occasional time I haven't got the tips up until Wednesday, I get a ton of e-mails asking where they are ha.
Another close but no cigar last week as Thorbjorn Olesen looked like he was going to finish in the Top 5 of the Turkish Airlines at the very least but ended up one stroke off. Good to see Rose win it in a real battle.
Mayakoba 2018 Betting Tips:
Tony Finau: 12/1. Very short odds for Tony who is the second favourite in a field featuring Rickie Fowler and Jordan Spieth however I think it is warranted. He got a 7th place finish back in 2014 and he's been in excellent form. Even though he was tied for 36th at the Shriners he was still able to hit a -10 and looked solid on the final day. I'm wary of his ability to actually WIN events however and I'm going to go with 1/4u to Top 5 Finish at 3/1 odds.
Rickie Fowler: 8/1. First this is not reactive to two short odds finishers doing the business last week. Rickie is just looking damn good and I loved how he performed last time out. I think he's worth the play here and will go with 1/2u to win at a course he finished second last year.
Sam Ryder: 50/1: This is one of those picks based on the conversation with my friend last night so hopefully things work out right off the bat! Ryder is coming in hot with some very solid putting. Missed the cut last year but 1/4u to win & E/W is enough.
Cameron Davis: 66/1: I'm going with 1/4u to win & E/W on Davis. Liking his putting and also his performance last week. Getting accustomed to the PGA Tour again and could surprise. Performed well here previously.
For the record I know quite a few who are on Aaron Wise this week. I don't think the price is right personally but if you're looking for additional bets that could be one.
Nedbank 2018 Betting Tips:
Danny Willett: 25/1. Willett has had some strong performances here including a win and is coming in strong after a couple of missed cuts. He looks like he is seeing a nice return to form which is perfect timing. 1/2u to win & E/W.
Sam Horsfield: 60/1. In form and while he has never played here I think his game is suited for this course. 1/4u to win & E/W.
Lucas Bjerregaard: 18/1: No top 10 performances here in the last two years but he's coming in with some scintillating form and is worth a small 1/8u to win & E/W bet.
Sergio Garcia: 9/1. Looking at the field I think there's a slight possibility. I'd put his true odds a bit lower. 1/8u to win.