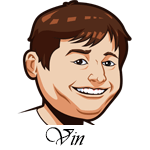 Follow @SBTSportBetting


[Get Exclusive Tips on our Patreon, Ad-Free
]
NBA betting tips for November 8th, 2023.
4-4 last time on Patreon,. 33-19 this season.
W Tyrese Maxey Over 32.5 Points/Rebounds/Assists
W Tobias Harris Over 23.5 Points/Rebounds/Assists
W Bam Adebayo Over 18.5 Points
L LeBron James Over 37.5 Points/Rebounds/Assists
L D'Angelo Russell Over 15.5 Points
L Dillon Brooks Over 14.5 Points
L Jayson Tatum Over 42.5 Points/Rebounds/Assists
W Anthony Edwards Over 33.5 Points/Rebounds/Assists
LeBron falls one short. This lost on the final play of the game as he made a pass to an opener shooter who missed.
An absolute monster of a slate today as everyone was off yesterday. Three games and eight props. I don't usually like playing this much, but the slate doesn't usually look like this either.
I'm betting 0.5 units on games and 0.25 units on props for tonight.
We are now posting some of our betting tips exclusively on
Patreon
, as well as posting exclusive betting tips there. Here is what you get by supporting us on Patreon:
Exclusive betting tips. Not just the tips omitted from these posts, but many exclusive tips as well.
Ad-free experience.
Priority e-mails; receive the e-mails as soon as the tips are posted rather than hours later.

Boston Celtics at Philadelphia 76ers Betting Tips:
This is one of the biggest games we've seen this season. Both teams are 5-1 and they are number one and number two in Net Rating. Both offenses have been top-3 and both defenses have been top-5. All of that is before you consider that this is a playoff rematch. So, of course, the ESPN game is Spurs/Knicks.
I think tonight's game is going to go over the posted total. The early season match-up between these two last year was an easy over and I think the offenses are a bit ahead of the defenses. Both team's great defensive stats are at least somewhat thanks to an easy early schedule. This is either the first or second great offense either has faced.
Celtics/76ers Over 227


Detroit Pistons at Milwaukee Bucks Betting Tips:
The Bucks swept all four games against the Pistons last season and I don't see that changing here.
I thought about going with Bucks over 120 here as I think they go off, but I am going to lay the -12 instead. This one has blowout written all over it.
Detroit has a lengthy injury list and the Bucks seem due for a home blowout party game.
Bucks -12
Bet Horse Racing - +£21,565.98 profit on £25/pt staking. Click for more details.
(Advertisement but we have tested it out and have been quite impressed with it)
Golden State Warriors at Denver Nuggets Betting Tips:
It is a match-up of two of the top-8 offensive teams in basketball thus far on ESPN. Yeah, I like the over here.
Denver is cooking right now with three straight overs and a minimum of 123 points. The Warriors have been more up and done, but they have four games of 120+ this season. The day off should help both offenses who had a tough schedule prior.
Warriors/Nuggets Over 227


Player Props Betting Tips:
Mark Williams Over 12.5 Points: Williams is looking for a breakout season. He's hit this in three of his past four games, but he's definitely boom or bust. His last three overs were 18+ point games. The unders were nine or less. Tonight's total for the game is set at 240 so there should be plenty of opportunity.
Tobias Harris Over 21.5 Points/Rebounds/Assists: The lack of James Harden has really set Tobias Harris free. His scoring and assists were down last season, but they look to be coming back with a 19/6/3 average to date. He's hit in his last four games.
Jrue Holiday Over 24.5 Points/Rebounds/Assists: This is such a low number for a great player. He'll never be close to the top scoring option on this team, but he's hit this number in four of his last five games. He's played 40+ minutes in his last two games.
Jaylen Brown Over 30.5 Points/Rebounds/Assists: Another Celtic, but he's been remarkably consistent this season.
In his last five games: one game with less than five assists, one game with less than six rebounds, and one game with less than 23 points. The only game under this total landed at 29 in just 25 minutes. There will be more minutes tonight.


Dillon Brooks Over 11.5 Points: This number went back down after just nine points in a blowout. That was his first game playing under 34 minutes and his first game under 12 points. I don't see the Rockets doing that again.
D'Angelo Russell Over 15.5 Points: His number has been low for much of the season, but tonight looks like another great spot. Davis is questionable, Gabe Vincent is still out, and they are facing the Rockets. He's missed in the last two, but that is more due to a low shooting percentage. He's still attempting 14+ shots per game.
Anthony Edwards Over 24.5 Points: Edwards has 31+ in four of his past five games. The Wolves are favored by -9.5 with no Zion, McCollum, and a bunch of others. My only real worry here is he plays like 25 minutes in a blowout.
Jonas Valanciunas Over 12.5 Points: This is worth a play with Zion out. He averaged 14.7 per game last year in games without him.


Follow @SBTSportBetting