October 10th, 2017 Betting Tips: MLB, NHL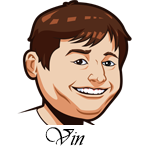 By
The MLB Playoffs have been worth the price of admission thus far. Last night we saw the Dodgers and Astros wrap up their series while the Yankees were able to force a game five against the Indians.
That should be a very interesting game with both teams having amazing bullpens and offenses, but the Indians have Corey Kluber heading to the mound. The question becomes: will the Yankees hit him like they did in game 1? Or will he go back to being the ace who is likely to win the Cy Young?
Last night also saw the Cubs take a 2-1 lead over the Nationals with a chance to finish off the series at home tonight. This series has been painful for the Nationals as they saw Stephen Strasburg and Max Scherzer combine for 12 no-hit innings and lost both of those games. This is a team that has been in control of their division since June and it could see their season end in just four playoff games.
#1 Sportsbook Online for Americans

Good deposit bonus, lot of unique bets & props. Excellent mobile & live betting.
MLB Betting Tips:
The Nationals will send Tanner Roark to the mound with their season on the line tonight. He was an average to slightly below average starter this year with an ERA+ of 95. He was much better in the second half of the year and he will be trusted to get the win here, but any struggles from him and the way this series has gone it could be too late. The Nationals offense just hasn't done their team many favors thus far.
Chicago sends Jake Arrieta who had an ERA+ of 123 this year. After having a lot of questions about him early in the season, he bounced back with a 2.28 ERA in the second half. He is coming off a recent injury which saw him only pitch 10 1/3 innings in September, but he should be coming into this game in good form.
My gut has always said that this series is going five. There is questions about Arrieta here and the Nationals offense can't stay quiet forever. It is just too talented. I don't love Roark, but the Cubs offense has been quiet in this series too. If this line was a little bit lower I think I'd be on the Cubs, but where it currently stands I think the value is in the Nats.
Nationals +146 and bring on game five.
NHL Betting Tips:
The way things are going for the Blackhawks offense early in the year has me giving a long, hard look at the over 5.5 goals in tonight's Chicago at Montreal game. The Blackhawks put up that huge ten goal game on Pittsburgh and then followed it up with another five and then three against Toronto. They can score and thus far the Canadiens have allowed more than they've scored. Rolling with the Hawks offense here.
Las Vegas is 2-0, that's cute. They aren't a good team and they will be at the top of the draft next season. The fun times should end tonight as they face Arizona on the road. The Coyotes aren't a great team, but they also aren't an expansion team. Arizona -110 is the play.
#1 Sportsbook Online for Americans

Good deposit bonus, lot of unique bets & props. Excellent mobile & live betting.