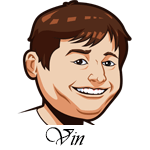 Follow @SBTSportBetting
The long wait is over and my personal favorite sport is finally back. The NBA returns tonight with two huge match-ups that very well could be previews of the Eastern and Western Conference Finals as the Celtics play the Cavaliers and the Rockets face the Warriors. This is going to be a fun NBA season and we are really excited for it. How excited? We are launching NBATips.Net starting today with tips every day this season. Be sure to check it out.
We also have the baseball playoffs ongoing tonight with a couple of big games. The Yankees dominated last night to move that series to 2-1 and they'll look to tie it up tonight. While the Cubs look to do the same at Wrigley Field against a scary Dodgers team. There
is hockey tonight as well as this is the best time of the year for sports, but we can only tip so much.
Notable Upcoming Bets:
NBA Betting Tips:
The Warriors are an amazing team. The amount of titles they've won and the amount of regular season games they've won show that they are truly an all-time great team. So why do I think that this might be their best season yet? I think 70 wins is a real possibility and the title seems like a foregone conclusion. Last season they stumbled a bit as they tried to figure out how to make it all work, now they know and they should be really scary.
Houston made the big move for Chris Paul, but you have to think there will be an adjustment period here. Who will get the ball? Who will get the ball late? How will it all work? I think this team is going to be great, but not yet.
Golden State should come out rocking in this one and I don't expect them to look back. Tonight is a message to the NBA that they are back and I think they cover. Warriors -9 as the champs roll.
The other game is a bit more interesting as the Cavaliers and Celtics are a really interesting match-up. The Celtics have a young core, a great coach and tons of athleticism. The Cavaliers have tons of experience and LeBron James. What I don't like in this game is the Cavaliers defense. I'm just not sure they care. I think this will be a high scoring affair because of that and I'm taking the over 212.
MLB Betting Tips:
Kyle Hendricks did not look great his last time out as he gave up four runs against the Nationals. While Yu Darvish has looked better as of late, there is still something about his recent starts that give me pause. The wind should be blowing out a little bit which should lead to an over 8 runs.
And the same thing in the Yankees and Astros game. Over 8.5 runs is the play. Lance McCullers got hit in his one start against Boston in the ALDS and Sonny Gray got beat up by the Indians in the ALDS. These are better offenses and a better hitters park, especially for left handed hitters tonight. The long ball will reign tonight.
Follow @SBTSportBetting