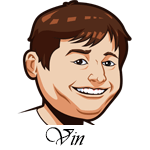 The quarterback narrative is all out of wack for tonight's match-up between the Packers and the Vikings.
Green Bay fans are spending a lot of time online complaining about Aaron Rodgers. People are wondering if he trusts his receivers or if he's holding the ball too long or some other perceived complaint. Meanwhile, Rodgers has thrown 265 consecutive passes without an interception and has a 100.4 QB rating with 24 touchdown passes.
Everyone is loving Kirk Cousins right now as he's on a 8-2 stretch with 22 touchdown passes, four turnovers and seven games with a passer rating of 111.4 or better.
The fact that Vikings fans are feeling more comfortable with their quarterback right now than Packers fans speaks to the reactionary world we live in. Aaron Rodgers has the all-time best QB Rating while Kirk Cousins is 0-8 in his career on Monday Night Football.
Not saying that Rodgers hasn't struggled or Cousins isn't playing great, but some perspective in this world would be nice.
Notable Upcoming Bets:
NFL Betting Tips:
Green Bay Packers at Minnesota Vikings: This was a line that really took me back when I first saw it. The Vikings are a -5 favorite against the Packers at home here. While the Vikings defense has always defended Rodgers well, this is still a QB on the other side with an 0-8 record on Monday nights. He also threw two interceptions in the last match-up against the Packers that ended up costing them the the game.
That said, with all the attention on the quarterbacks, it could be the running backs that decide this game. Or lack of running back as the Vikings will be without their best player, running back Dalvin Cook. He has really helped to open things up for Cousins during this stretch and will be missed. While Aaron Jones leads the NFL in rushing touchdowns and is a big part of Green Bay's commitment to the run that has Rodgers on pace for a career low in pass attempts.
The Packers feel like the favorites in the NFC North and I'm not sure I can go against them here. They are getting way too many points all things considered.
NBA Betting Tips:
Philadelphia 76ers at Detroit Pistons: The Sixers had a tough week, but they should feel pretty good about this one. Detroit is dealing with a ton of injuries right now as Derrick Rose, Blake Griffin, and Luke Kennard are all listed as questionable. That leaves Andre Drummond to face off against Joel Embiid and that hasn't gone well in his career. Embiid has a career 29 points per game against the Pistons and I think he'll continue that dominant run here.
Utah Jazz at Miami Heat: Utah is on their third game of a road trip here. They've won the past two against Atlanta and Charlotte, but failed to cover the spread in either game. That has to be considered a disappointment and they have a tough match-up against one of the best home teams in the NBA tonight.
I like Miami a lot tonight, especially as they'll be without Mike Conley for this one.