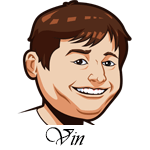 We were just a meaningless basket with seconds left in the game from a 3-0 night last night. The Jazz were defeated by the Heat as expected, but they managed to get a basket by Rudy Gobert to cost us the cover.
Thankfully, we were able to get the win on our other two games of the night. The Packers dominated the Vikings as Kirk Cousins did what he does on Monday nights. He's now 0-9 in his career during Monday Night Football games. This game was all about the run as Aaron Jones of the Packers had 154 yards and two touchdowns. We also got a win in the NBA with the Sixers over the Pistons.
There is only one game on the schedule for Christmas Eve and that's the Hawaii Bowl. This year's game features Hawaii playing at home against BYU. Hawaii is looking for a school record 10th win of the season as they enter this won at 9-5. While BYU at 7-5 is a slight favorite.
This match-up features two teams that are capable of putting up big points and the total on this one is set high at 64 points. All I want for Christmas, and for a bowl game involving two teams I know nothing about, is a nice big over and I think that we'll get.
Notable Upcoming Bets:
Hawaii Bowl Betting Tips:
Hawaii is lead by Cole McDonald and on the season they are one of the best passing teams in all of college football. The team is averaging 325.9 yards per game and that puts them at 6th in the nation.
While the Cougars are not quite at that level, Zach Wilson of BYU is no slouch. He put up huge yards the last two weeks, but interceptions were an issue. Last time out he struggled against SDSU, but this Hawaii defense is a far different story than that. Hawaii is no stranger to allowing big points, their red zone scoring defense ranks No. 87 in the nation.
The home field advantage for Hawaii could play a factor here, but at the same time this is one of the better teams they've faced this season. Both of these teams struggled against SDSU as BYU lost to them 13-3 while Hawaii won 14-11. I think we can throw that one out the window for this one. SDSU was one of the better defenses while these teams are more offensively minded.
I am looking for both of these teams to have 400 or more yards on the offensive end. Zach Wilson had been recovering from a surgery and he should be feeling a lot healthier now. While McDonald has 3,642 yards and 29 touchdowns on the year.
You don't always see motivated football in bowl games, but this could be the exception. Both of these teams want to finish strong, both of these teams are well coached, and being the only game on this day has to play a factor. I think both offenses come out strong and we see this one go over.