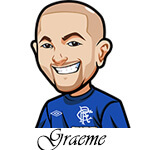 Follow @SBTSportBetting
Well the UEFA Champions League action is over with for this week. While there is Europa League action, I won't be covering that. I'll be watching it though of course.
It wasn't the best outing for us in the Champions League this week. Tuesday was a 2-4 day for a -3u day. Wednesday was a 3-4 day for a +0.4u profit. That late goal by Pizzi in the Benfica vs Lyon game stung, but it would have only swung things 0.93u in the positive direction so not the end of the world.
And hey Nanitamo Ikone got that 95th minute goal to give us the draw in Lille vs Valencia, so it all balances out.
That Liverpool game – ha. I said I expected a clinical Liverpool defensive performance and we got anything but. After the first 10 minutes I knew that was going to be the wrong bet.
Let's look at Fridays action:
Southampton vs Leicester City Betting Tips:
Leicester are decent favourites in this one at 2.30 odds. They are currently 3rd in the English Premiership as they visit Southampton.
Southampton are 17th and on a bad run at the moment. They have failed to win in their last four games. Worse – they have yet to record a win at home. Their schedule has been tough at home though – and this game has the possibility of adding to that.
If Southampton could just put the ball in the net more things could be different for them. They're getting the chances but just not converting. They've been a bit unlucky defensively as well.
Leicester defensively aren't too shabby although have been quite fortunate to get the goals.
I don't know if Leicesters luck will run out. They've just got excellent finishers such as Jamie Vardy so they are able to convert half chances. I think Southampton can keep their goalscoring streak going, but that they will present enough chances to Leicester to allow the goals to come in.
(Odds on this page are correct as of 2019/10/24 8:51:59 AM EST but are subject to change)

Verona vs Sassuolo Betting Tips:
Verona are currently 14th in Serie A and host Sassuolo who are 17th.
Sassuolo just had that tough game against Inter Milan where they were unlucky not to get a point from. Verona saw a three game unbeaten streak ground to a halt as they got beat by Napoli.
Both teams come into this one licking their wounds after tough games against top opposition.
I feel Verona have been solid at home and can keep it going.
(Odds on this page are correct as of 2019/10/24 8:51:59 AM EST but are subject to change)

Follow @SBTSportBetting