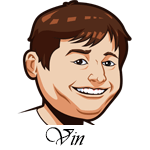 Tonight could be the last MLB game of the season with a new champion crowned. That seems to be what the bookmakers think as the Astros are a huge favorite tonight at -175. This is a great pitching match-up as Justin Verlander faces Stephen Strasburg of the Nationals. This is a chance for Verlander to really solidify his Hall of Fame case that does't really need much more solidifying.
For Strasburg, he's looking to force a game seven and get his team into a place where anything can happen. The Astros are the much better team on paper, but anything can happen in a game seven.
Notable Upcoming Bets:
MLB Betting Tips:
Washington Nationals at Houston Astros: Every game except for one has went over in this series. Of those games, only one of them was decided by less than three runs. It's been a close series without a lot of close games. That's been a big fault of the bullpens, especially on the Nats end over the last few games.
I think it would be a lot of fun of the Nats were able to steal this one, but the math just doesn't add up. The Astros won't let him get past the sixth inning and they will probably score off of him. They will get into that bullpen and do some damage. They are just too good and the championship is too close.
That said, my system doesn't quite see this is a bet and it feels like the line is a bit high so we'll be staying away from that. What we will be going with is the over. These two starters combined for six runs allowed in game two and I could see a repeat performance. With the bullpen performances I'm expecting, that spells an over.
Bet Astros/Nationals Over 7.5 Runs
NBA Betting Tips:
Dallas Mavericks at Denver Nuggets: This game has a line that just doesn't make sense to me all around.
The total is set at just 213 despite the fact that the Mavericks are scoring 116.7 per game and allowing 112.3 per game. It's early, but they are playing at a pace that creates high scoring games. Even if you average that with the more modest per game totals of 105.7 / 100.3 of Denver, it still spells an over.
So that's our first pick. Dallas is going to want to push the pace here to compete, but their defense isn't going to be able to do enough with Denver.
The second pick revolves around where this game is being played. The Nuggets have the best home court advantage in the league and they've done very well there over the past few seasons. They not only win, they cover. The line on this one is set pretty low in my opinion. The Nuggets -5.5 would be a good line for a game played at Dallas. In Denver? That is a beautiful line that I am jumping all over. It should be about five points higher.