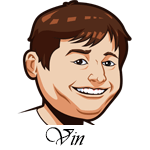 Follow @SBTSportBetting
We had a nice day yesterday at 2-1. The Patriots won big and the Golden State Warriors… wow.
Last night the Golden State Warriors scored 92 points… in the first half. Klay Thompson had the breakout game that everyone knew he would have eventually as he set an NBA record for three-pointers with 14. I knew the Bulls defense was bad, but that? Wow. He broke his teammate Stephen Curry's record of 13 and you have to wonder if he'll try to get it right back. Seriously, 70 wins is not out of the question again for this team.
We also saw the Bucks beat the Raptors last night leaving Milwaukee as the only undefeated team left in the NBA. Toronto played without Kawhi Leonard and Milwaukee without Giannis Antetokounmpo.
Notable Upcoming Bets:
NHL Betting Tips:
The Penguins are one of the hottest teams in the NHL right now. They are coming off a four-game sweep of a road trip. Their offense is really clicking as they've scored five or more goals in three straight. This will be an emotional return home with the recent tragedy in Pittsburgh so this team should be ready to play hard for the home crowd. I am expecting a big win here tonight.
NBA Betting Tips:
The Sacramento Kings are good now. Not like playoffs good, but they are no longer the team that you count on your schedule as an easy win. They've won three straight including last night's 10-point road win against Miami. De'Aaron Fox is having a breakout year and along with Willie Cauley-Stein and Buddy Hield, the trio is all averaging around 18 points per game. The nucleus is here and this team currently has the sixth best Offensive Rating. They can score.
They play the Orlando Magic tonight and that is a team that is still in need of some work. They are 30th in Offensive Rating thus far this season and are playing a lot of young guys that still need to figure things out. This is a back-to-back for the Kings, but they are clicking right now and it's not that far of a trip from Miami to Orlando.
The Kings +4.5 are a great pick.
With Tyronn Lue being fired in Cleveland, the next coach I see being on the hot seat is Scott Brooks in Washington. This team has been a disaster thus far and the in-fighting has already begun. John Wall, Otto Porter and Bradley Beal are a great trio of players to have, but they don't seem to like each other and want to work together. When one gets the ball, the other sulks. This team has also been terrible rebounding to start the season. Dwight Howard should help that, but the chemistry stuff will definitely not be helped by him. If Brooks wasn't owed so much money, I'd be worried about him.
They play the Grizzlies tonight who are sort of the forgotten team in the NBA. Mike Conley and Marc Gasol are still really good players and this team plays hard. They play slow and try to play defense, but they are not an easy out. I think the Wizards struggles will continue here on their final game of a 5-game road trip.
Follow @SBTSportBetting