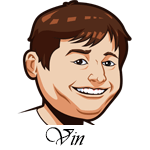 Follow @SBTSportBetting
The MLB playoffs are finally here. It's been a wild last month that ultimately didn't end up being that wild. No tiebreakers, no big come from behind playoff runs, no epic chokes. Just the teams that we thought would be here in roughly the seeding we thought they'd be in. The Mets making it and the Cardinals missing out could be considered the only real surprise, but that just seems right. Last year's NL champions should be here, no matter how beat up.
The action kicks off tonight with the Blue Jays and the Orioles in the AL Wild Card game tonight. The AL East was a dog fight all year and I don't expect this game to be much different. These two teams played 19 times this season and the Jays have a slim 10-9 lead. You couldn't ask for a game much closer than this one. Playoff baseball is here and this one should be plenty intense.
MLB Wild Card Betting Tips:
Let's break down the Jays/Orioles match-up into three distinct categories.
Starter: The Jays send Marcus Stroman to the mound who had a decent if unspectacular season. An ERA of 4.37 is aided by an xFIP of 3.41. He's had some bad luck, but at the same time this hasn't been a great season for him overall. He is way, way past his career high in innings and is starting to show signs of slowing down. September was a down month from him in every way. His line drive percentage was up, his walks were way up and his strikeouts were down. He's not coming into this game in his best form and his last start of the regular season saw him give up nine hits and four runs against the Orioles. The same Orioles he plays today.
For the Orioles, it's Chris Tillman who is about as close to an ace as the Orioles have. His 3.77 ERA on the season and 4.54 xFIP are solid, but nothing to be truly scared of. His first half was much better than his second half and he has had an xFIP over 4.71 in each of the past three months. There are more bad signs here, but it doesn't feel like he'll have a very long leash in this game. His last start of the regular season was against Toronto where he allowed six hits, three walks and one run in 5 2/3 innings.
Bullpen: A lot has been written about the Orioles bullpen as Zach Britton had an absolutely amazing season. Brad Brach had a nice season as well, but the Orioles bullpen doesn't go much deeper than that.
Notable Upcoming Bets:
The same can be said for the Jays who are basically Jason Grilli and Roberto Osuna right now. Joaquin Benoit was meant to be apart of this, but he injured himself coming in from the bullpen for a fight against the Yankees and will miss the playoffs.
These teams are pretty evenly matched. The Orioles have the lower ERA while the Jays have the lower xFIP. I think that Buck Showalter of the Orioles can handle a bullpen better, but it doesn't really matter if the guys are giving up runs. One thing to look at here is Osuna pitched three innings over the last three games while Britton pitched just one. This late in the season every bit of rest counts.
Offense: This could not be any closer. The main difference here is that the Orioles led the league in homeruns, but other than that they are basically even. The Orioles had a .760 OPS, the Jays had a .755. The Jays had a .327 wOBA, the Orioles had a .326. It's close. Too close.
This game is just about as tight as it gets, but there are two issues that are swinging me towards the Orioles. The first is the bullpen usage. The Jays used their bullpen far more over the weekend than the Orioles needed to and rest is always a great thing. The second is Marcus Stroman's rough final month, it could just be a small sample size but this is a lot more innings than he has ever pitched in his life and he could be breaking down. You can't walk batters at the rate he's been walking them against a team like the Orioles. They will make you pay.
Baltimore +131.
Follow @SBTSportBetting