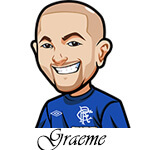 Welcome to Wednesdays free sports betting tips where I always cover the golf.
This week my focus is on just one tournament which is the Open Championship however despite just one tournament, I'll also cover the WNBA in here.
The Open Championship is a big one and one I am really looking forward to. It's hard to remember a time when it was tougher at the top with 4 golfers in that upper echelon at the moment. You have the two always talented Rory McIlroy and Jordan Spieth, the consistent Jason day and the on form Dustin Johnson.
What an amazing tournament it's going to be and I can't wait for it.
Out of the four I'm going to place a quarter unit bet on Jordan Spieth to win. At 11/1 it's a nice price and is just enough for me to bet him. With Spieth I just have a good little gut feeling over this one. Last time I had that gut feeling was the D&D Invitational when I adviced a full unit bet on Spieth to win it, and he duly delivered with a 6/1 victory.
I'm playing three other quarter unit bets too, all of which are both to win and each-way as there's a good chance these guys don't win but do place.
My first one is Matt Kuchar. Kuchar has had a couple of nice finishes here and he's also coming into the Open Championship with some damn solid form going on.
I love his odds and he's worth a shot for me.
I'm also taking Adam Scott although this one isn't really me – it's more all I hear is others predicting Scott wins or comes close and it's at the point where I just have to place a bet. Again not really my pick but one I'd feel silly about if I wasn't on.
Finally for the small quarter unit bets I'm on Nicolas Colsaerts. He's played well at this course previously and has been in good form lately. He's a massive price but I feel it's a justified bet.
Finally I have two bigger bets for a half unit each.
My first is Sergio Garcia mainly because with his results here and the odds I think you'd be nuts not to get Garcia. Based on what he has done at this course we've just got to back Garcia for the win and each way finish here.
I'm also recommending a bet on Rickie Fowler. Similar Garcia bet – half unit to win and each day. Fowler has only missed the cut once and he's a big fan of the links – this could be right up his alley and he could be the real dark horse with not much pressure or focus on him.
WNBA Tips:
Still killing it with the WNBA and tonight we're on Dream +6 over at WNBATips.com. Quality wise, Liberty are better but I like the run the Dream are on at the moment – they've got momentum and chemistry and might pull off the upset. I'm also on Mystics +4.5.