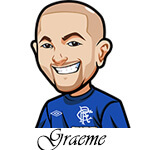 Well from a betting perspective, the Phoenix Open was a whole lot of nothing but boy was it a fun tournament from a viewing perspective.
Saturday was the surprising day of Jordan Spieth and my gosh wasn't it great seeing him perform like that? Unbelievable and I hope he keeps it up.
Then Sunday Brooks decided he was going to flex his muscle and when he does that, nothing can stop him.
Our only winning bet was Xander Top 10. I had a feeling he wouldn't win and although I wish I had the Top 5 bet obviously, I was happy to be able to generally relax on the Sunday.
I was extremely disappointed in Daniel Berger. That's one I really felt good about.
Pebble Beach this week. Spieth like 6th favourite ha. Let's get on with it:
Pebble Beach 2021 Betting Odds Favourites:
Patrick Cantlay: 7/1
Daniel Berger: 14/1
Paul Casey: 16/1
Will Zalatoris: 18/1
Jason Day: 18/1
Jordan Spieth: 22/1
Francesco Molinari: 22/1
Si Woo Kim: 30/1
Max Homa, Sam Burns, Kevin Streelman, Cameron Davis: 33/1
Pebble Beach 2021 Betting Tips:
Must say I much prefer this format with 3 rounds at Pebble Beach then the singular round at Spyglass. Weather looks to be a mess. Rumour is that was why DJ pulled out.
Quick note that for Americans, the sportsbook GT Bets has the best odds by a country mile. However those odds aren't a factor as I can't bet there in terms of my picks – so the "Everywhere Else" odds are fine. But if you are American – GT Bets is the place this week. Also should note BetOnline works for Americans too.
Also for E/W bets Bet365 are doing top 8 which I will be factoring in and where I'll be placing my bets.
$62.50 on Jordan Spieth to win & E/W:
Yeah look I just have to do this one. It's very possible he is a one week wonder. Think of Pebble Beach last year or the Charles Schwab. Everyone all excited to declare Spieth was back then he floundered again. Very possible he does that again here.
However his performance last week was top notch and it might have just given him the confidence neded. Thise is a tournament he has won previously and he had a good performance last year too. Plus man – much like Tiger at the Masters – you just want to get on this and root for Spieth to get back to it. I'd hate to miss out and be sitting there hoping he fails.
USA:+2500 at GT Bets
Everywhere Else: 22/1 awt BetOnline
---
$62.50 on Jim Furyk Top 10 / 20 Finish:
Jim has average course form over the years here and hasn't played too much lately. Despite that he pops on the metrics for me. His GIR was great last year. I think he might be a surprise pick.
I am taking $62.50 and splitting it on a Top 10 finish and on a Top 20 finish here. I think there is enough value to risk the Top 10.
Top 10:
+1200 / 12/1 at BetOnline
Top 20:
+500 / 5/1 at BetOnline
---
$62.50 on Jason Day to win & E/W:
I don't feel good about backing Day due to his current form but his course form is spectacular. He plays extremely well at Pebble Beach. I do think the weather will end up being a big factor here and will be a negative and Day won't do it. Despite that, with his course form the odds make it worthwhile regardless. Just a pure mathematical play.
USA:+2500 at GT Bets
Everywhere Else: 20/1 at BetOnline
---
$62.50 on Max Homa to win & E/W:
By the numbers for this course I like him here. Playing a good game at the moment. Solid approach play that I like to see. If his putting is up to par (pun intended) then he could be a strong contender here. He tweeted that he knew his putter was an issue last week and is going to be focusing more on that.
USA:+4500 at GT Bets
Canada: 35/1 at Bodog
Everywhere Else: 33/1 at BetOnline
---
$62.50 on Kevin Streelman to win & E/W:
Can't argue with either course form or even current form. I mean no Top 20s in a little bit but he always performs well here. Probably my favourite pick to be honest and very close to $125 for this one. Different setup and the weather plus quantity of picks with those goober Mickelson & Spieth picks are putting me off.
USA: +5000 at GT Bets
Everywhere Else:33/1 at BetOnline
---
$62.50 on Phil Mickelson to win & E/W:
Sucker bet. Can't resist. Not an official bet. He could show up in a wheelchair and I'd probably still bet Phil at Pebble Beach.
USA: +4500 at BetOnline
Everywhere Else:45/1 at BetOnline