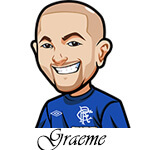 Follow @SBTSportBetting
What an amazing couple of weeks it has been for golf.
The emergence of Dustin Johnson to cement himself as one of the top tier players alongside Day, Spieth and Rory. The way he won that US Open with all the controversy over the stroke penalty – just amazing.
But nothing comes close to the Open Championship and what a finish that was with Mickelson vs Stensen. Holy crap was that just amazing.
From a betting perspective I can't complain either as it was a slight profit thanks to Sergio Garcia getting yet another place. The man is amazing at this course. Here's the betting slip showing that one: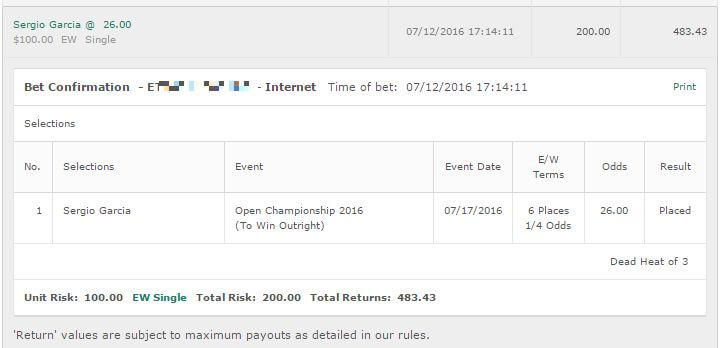 There's no European tour this week and I don't like anything in the Champions Tour or LPGA however I do have a couple of tips for the RBC Canadian Open for you.
The Canadian Open currently takes place at the Glen Abbey Golf Course in Oakville. It's a nice Nicklaus designed course that has had a few changes to it in recent times due to the weather.
Last year Jason Day won it and he'll be hoping to repeat his performance here. This is a good course because it's been very tight over the years – since 2000 over 50% of the finishes have went to a playoff and you have to go back all the way to 1977 for a bigger margin of victory than 3 strokes.
Notable Upcoming Bets:
I'm banking on the multiple time Canadian Open winner Jim Furyk. Actually "banking" may be too strong a word – I'm placing a small bet of a quarter unit on him to win and E/W. He usually eats this course up but man his form has been very bad this season so far and I find it hard to have any confidence in him. So only a quarter unit bet on him.
A lot of people will be looking at Jason Day to repeat his performance, but I'm going with Dustin Johnson to win with half a unit. Johnson is still in very solid form and I'm hoping he can continue that. This is a very winnable tournament for DJ and having Jason Day in there might give him that additional momentum. I've also been a bit concerned with Day lately. Some of his form has been very odd and I'm not convinced on him at the moment.
I only have one more pick for the RBC Canadian Open and that's Sam Saunders. Massive odds but he played well here last year. He came in 22nd and I went back and watched his play and there was no hole he really struggled with. He's also coming into form and with solid performances at the Barbasol and Barracuda – Saunders may just be a nice little surprise package. This one is to win and E/W of course.
Follow @SBTSportBetting