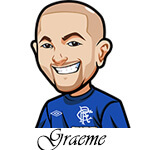 Follow @SBTSportBetting
With their first games in the books, Russia and Egypt take the stage for their 2nd matches of Group A on Tuesday, June 19th. The other matchup in the group, Uruguay vs Saudi Arabia, takes place the next day.
Russia top the group after a 5-0 thrashing of Saudi Arabia in the first round of the group stages. They'll be looking to get a win to practically cement their place in the next round prior to the game against the other powerhouses, Uruguay.
Egypt were beaten by a late goal in their game against Uruguay and are pointless along with Saudi Arabia. With a potential win over Saudi Arabia awaiting them, they at the very least want a point here. With Russias 5-0 victory that makes them looking better in regard to goal difference, but I do think the Egyptians will be happy to play for a point and take their chances against the Saudis.
Russia vs Egypt Betting Odds:
Russia To Win: 2.25
Egypt To Win: 3.75
Draw: 3.20
(Odds on this page are correct as of 2018/06/16 10:53:00 AM EST but are subject to change)
Russia Analysis:
On paper, a 5-0 thrashing to start the World Cup looks great but there's still not too much we know about this Russian team.
It was a fairly dominant performance from Russia however Saudi Arabia had more possession. If they could actually do something with it who knows. And don't forget Saudi Arabia did have about 2 real good chances that could have resulted in a goal. Al-Sahlaawi was very unlucky not to score in the first half with that header.
We saw them using a 4-5-1 formation for the most part looking quite happy to counter. Saudi Arabia were very very poor however and this game will be a good one to get a grasp on Russia and their abilities more.
Egypt Analysis:
Some people felt Egypt were hard done by but a 1-0 result from Uruguay seemed fair. Egypt played a very defensive pattern to neutralize the Uruguay creativity in midfield. It worked and while it meant they didn't get many chances they played for the draw and almost got it.
However Uruguay never really played with much urgency and I think we'll see that from the Russians. Regardless of the score Uruguay seemed to be very patient and that was impressive to see. Being at home and following on from that 5-0 game I think Russia will push them more.
However Egypt have clearly shown that defensively they can hold up and if Salah is playing….things could be interesting.
Russia vs Egypt Betting Tips:
This is a very hard game to call. I feel like Egypt will play for the draw and will be fine attempting to neutralize the Russians.
I just don't know if Russia have what it takes to unlock their defense and tight midfield. I've went back and forth on Russia or the Draw and I'm going to do a small bet of 1u on the draw. You can bet that at https://www.Bovada.lv.
Follow @SBTSportBetting