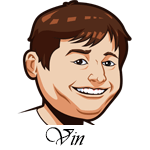 Follow @SBTSportBetting


[Get Exclusive Tips on our Patreon, Ad-Free
]
A 2-0 record last night.
It was not without drama. I won't say that I planned the Mariners win that way. I really was expecting a great performance from James Paxton, but a really bad third inning did him in. Errors played a part, but the fact remains that he got hit. Despite being down 6-2, the Mariners came back. They didn't give up another run in the game and they managed four runs over the final four frames to grab the win. Edwin Diaz made the save and this team just keeps winning one run games. It's amazing, really.
The earlier pick of the day, under on the Orioles/Marlins, was an easy win. These offenses just had nothing going for them and the starters did their jobs. The final score ended up 2-0 against an under of 8.5. That one felt good.
My system also liked Houston and Washington last night. Houston won easily while I was right to skip the Nationals/Jays game as Toronto pulled it out.
Since this is becoming a regular feature, the games that the system likes that I'll be skipping are: Tigers over White Sox (don't trust Jordan Zimmerman), under on Marlins/Orioles (not playing with fire with Wei-Yen Chen and Alex Cobb, two homer happy pitchers, on the mound) and under on Rangers/Rockies (too hot, too humid and too much Mike Minor).
Quick programming note: I'll be out of town for the next couple of days so there is unlikely to be picks for Sunday's games. If I have a chance to do them in the hotel I will, but the schedule is tight. I'll probably be back in time to get something up for Monday night, but I may be cutting it close. Hope everyone has a good weekend and thanks again for reading. Now, onto the tips.
[text-blocks id="137″ slug="email"]
Houston Astros vs. Kansas City Royals Betting Tips:
We got burned recently taking the Astros on a Dallas Keuchel start, but I have to think the Royals offense in the pitcher friendly park will cure what ails him. The Royals offense is bad, just a .702 OPS/91 wRC+ against lefties on the year. He still gets a huge amount of groundballs and I think he'll start to right the ship here.
He goes against Danny Duffy and honestly, I feel sorry for the guy. The Astros have the best offense against left handed pitchers in the game. A .809 OPS/125 wRC+ on the season and things could get bad for Duffy. This is one of the biggest discrepancies I've seen this year in my system, comparable to the Red Sox/Orioles the other night, and I will be laying the runs here.
Bet Astros -1.5 (-130) at: [text-blocks id="87″ slug="bet-mlb"]
Chicago Cubs vs. St. Louis Cardinals Betting Tips:
Bet Cubs -114 at: [text-blocks id="87″ slug="bet-mlb"]
[text-blocks id="110″ slug="middle-ad"]
San Francisco Giants vs. Los Angeles Dodgers Betting Tips:
Figuring out starters is tough, but here's what I know about this match-up:
– Alex Wood is having a tough time over his past three starts. He's decent on the year with a 4.43 ERA/3.29 FIP, but he's allowed 13 earned runs in his last 12 innings. He is dealing with hamstring and abductor discomfort that threatened to have him miss this start.
– This is Madison Bumgarner's third start since returning from the DL and he had a tough time against the Marlins earlier this week. I do not trust his bullpen at all.
– Both of these teams hit lefties well.
I can see a game where the bullpen is needed early as both of these guys get the hook. This is a decent line, but not one based in what these guys are actually doing. It's more based on what they have done in the past. This total is just too low and I have to take the over here.
Bet Giants/Dodgers Over 7.5 Runs at: [text-blocks id="87″ slug="bet-mlb"]
New York Mets vs. Arizona Diamondbacks Betting Tips:
I'll often talk about a team as one of the worst in baseball against a certain type of pitcher. Well, the Mets aren't one of the worst teams in baseball against lefties. They are the absolute worst and by a wide margin. They have a .282 OBP/.289 SLG/.571 OPS/62 wRC+. That is like a pitcher hitting. The lack of Yoenis Cespedes hurts, but this is just ridiculous. Patrick Corbin is having a big year and it's hard not to absolutely love him here.
Throw in the Arizona offense being one of the hottest in the game right now (.883 OPS over the past two weeks), an offense that hurts lefties (.795 OPS/114 wRC+) and the state of the Mets bullpen; and this is my favorite match-up of the day. Steven Matz is alright, but his line is ugly (3.53 ERA/5.32 FIP) and Arizona should hurt him today. I see this as a +2 run win and I am laying the runs.
Bet Diamondbacks -1.5 (+130) at: [text-blocks id="87″ slug="bet-mlb"]
[text-blocks id="418″ slug="best-sportsbooks"]
Follow @SBTSportBetting