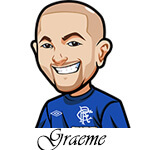 Follow @SBTSportBetting
This week in golf we've got the Safeway Open. We've also got the Links Championship however I'm not going to cover that one. Always just too tricky. Probably will look at doing some live bets on that one later in the tournament.
Before we get to that – what a week last week COULD have been. We had 5 bets in the BMW PGA Championship and all 5 were amongst the top guys going into the third round.
Stenson was just 2 strokes off the lead with Billy Horschel and Paul Casey 2 behind him. Viktor Hovland was one behind them and Molinari was one behind him. Basically 5 guys in the Top 12 and looking good.
Alas only Billy Horschel was able to hang with the big boys and got us a small cash. Nothing huge but I would have been pissed if there was nothing after that so I will begrudingly take it. Here's the bet: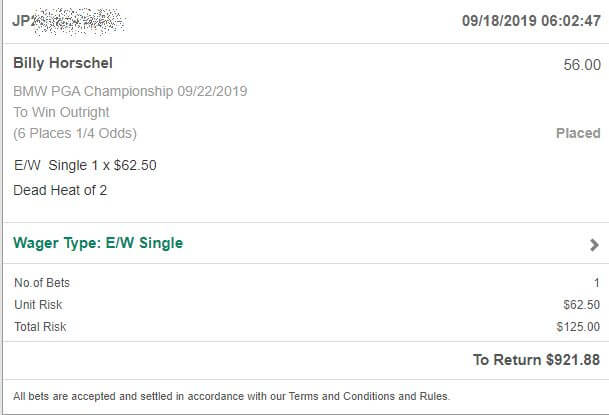 So this week I'm looking at the Safeway Open. A reminder that I will do confidence bets of 1-4 with 4 being highest and that's how you should bet in terms of money.
Let's get to it shall we?
Safeway Open Bets:
I'm doing a small play of 1u on Patrick Cantlay to win. Not a big fan of the price at 10/1 however when you run the metrics for this course, he stands out on them all. If someone stands out like that I find it hard not to back them. The price is juuuust worth it.
I have a max confidence bet of Sungjae Im to win and Top 5. Split the 1u over those. Won money with him here last year. Said last week I wanted to back him but just wasn't feeling good about the price. At 22/1 compared to 14/1 I've got to back him here. I see no reason other than potential regression to not back him. Stands out in the metrics.
Have to go with 2u on Ryan Moore to win and Top 5. The guy just performs well on this course – end of story. He also is looking good and could be a contender. One of those guys that always performs well on his favourable courses.
2u on Harold Varnier III to win and top 5. Occasionally, someone is recommended by others enough that I have to look at them and see. Last week there was one and I opposed it but did mention it here and they were nowhere. However this one I could see. So many are on him and looking at it, the odds make it worth a play.
My final one is Kevin Na to win and Top 5. Has the course form. Just a 1u bet on Na though at 40/1/
Follow @SBTSportBetting